Is it worth going to Russia for eye treatment?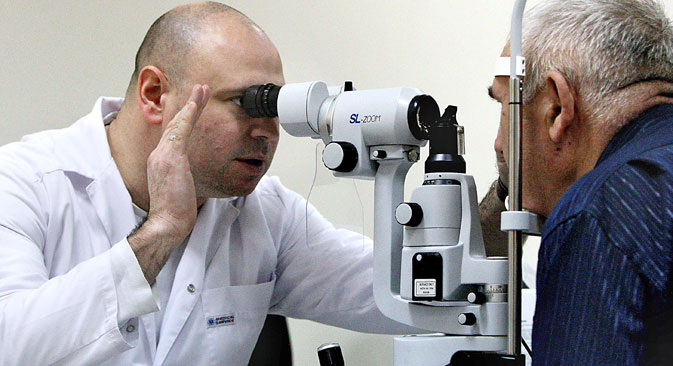 An ophthalmologist examines a patient at the diagnostic department at the Primorye Center for Eye Microsurgery in Vladivostok. Source: Vitaliy Ankov / RIA Novosti
Moscow eye clinics attract foreign patients because of the value for money they offer. However, in terms of new advances in ophthalmological research Russia is starting to lag behind.
In the courtyard of the Fyodorov Eye Microsurgery Institute in Moscow one can see people in traditional African costume and women in purdah. Since 2013 alone, over 1,600 foreign patients have received treatment here. The clinic was founded in 1986 by the pioneering eye surgeon and scientist, Svyatoslav Fyodorov. He was an honorary member of the American Academy of Ophthalmology, one of the world's largest and most influential organizations in the field.
"Russia made an enormous contribution to the development of ophthalmology,'' said Raid Elias, head of the European Medical Center ophthalmology clinic in Moscow, and a member of the American Society of Cataract and Refractive Surgery. "Svyatoslav Fyodorov created a revolution when he developed and introduced radial keratotomy, a refractive micro-surgical procedure to correct myopia."
Russia has other prominent ophthalmology research centers, such as the Helmholtz Research Institute of Eye Diseases, and the Ophthalmology Department at the Pirogov Medical Institute.
Pioneers in ophthalmology
Edward Roslof, senior director of the Russia – MIT Skoltech Initiative, had an operation in Moscow in 2004 to remove cataracts from both his eyes. "The procedure is called phacoemulsification and uses a high-frequency ultrasound device to break up the cloudy lens into small pieces, which are then gently removed from the eye with suction,'' Roslof told RBTH. "My surgeon then inserted a clear intraocular lens in the eye."
Roslof has already been living and working in Russia for several years, and he did not even consider having the operation in the U.S. because he was familiar with how the procedure was developed. "It was originally developed here at the Fyodorov сlinic,'' said Roslof. "There are only advantages to eye treatment in Russia because the doctors and medical researchers were pioneers in this work.''
Back in the early 1980s, Fyodorov and his team developed several unique procedures that were later improved and which are now used in most countries. One of these uses lasers to remove cataracts, which was the method that Edward Roslof's surgery was based on.
Roslof is an exception rather than the rule. There are not many U.S. nationals in Moscow clinics. For example, at the Fyodorov Eye Microsurgery Institute only 14 Americans received treatment between 2013 and 2015. The majority of foreign patients come from Iraq (211 people), Libya (100), Oman (115) and Sudan (710). Occasionally, there are patients from European countries too, usually from Italy (51 people in 2013–2015).
Beautiful eyes and imported equipment
"Foreigners prefer to have treatment in Russia because it is cheaper than elsewhere,'' Elias explained. "Most patients have serious conditions, such as problems with the retina, or seriously impaired vision."
Patients arrive in Moscow either on their own or with the aid of agencies that provide translation services and accompany them to medical appointments. Procedures that are most in demand are laser cataract surgery, strabismus surgery, and in-patient conservative treatments. According to Dmitry Pokrovsky, the head of surgery at the Fyodorov Institute, demand is growing for vitreoretinal surgery - procedures performed deep inside the eye's interior.
Recently, however, experts have been increasingly speaking of problems in Russian ophthalmology. According to Elias, despite the excellent level of the medical training, Russia is not showing any significant achievements in the research field, and most of the equipment used to perform surgeries is imported from abroad.
"We are using Korean, American, and Japanese equipment,'' said Prof Mikhail Konovalov, who heads his own ophthalmological clinic. "Indian equipment and lenses are becoming increasingly more popular." According to him, the main problem lies in the lengthy and expensive paperwork procedure required to introduce new equipment. It is faster and cheaper to buy already certified equipment abroad.
Still, there are some exciting examples of Russian breakthroughs. Fyodorov created unique lasers capable of removing the heaviest mature cataracts. "He identified radiation parameters that make it possible to achieve complete recovery, and to remove the lens at any stage of maturity,'' said Pokrovsky. "Most lasers used in the world are not powerful enough and can only remove cataracts at the initial stage. Thus we often see patients who cannot get help for their condition anywhere else."
All rights reserved by Rossiyskaya Gazeta.