Sea sponges on the front line fighting cancer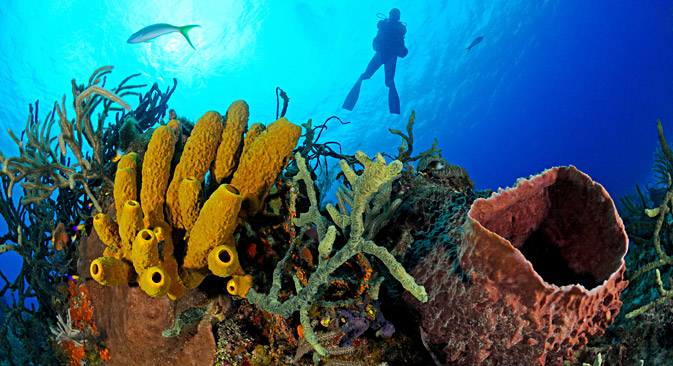 Sea sponges are already known to be sources of anti-cancer drugs. Source: Alamy/Legion Media
After five years of research Russian and German scientists have identified a new anti-tumor agent that occurs naturally in sea sponges off the coast of Far Eastern Russia in the Pacific Ocean. This discovery has the potential to launch new and highly effective treatments to combat cancerous cells.
Russian and German scientists have extracted a unique anti-tumor compound, Monanchocidin A, from the sea sponge, Monanchora pulchra, which lives along the coast of Russia's Kuril Islands in the northwest Pacific Ocean. The substance differs fundamentally from most known anti-cancer agents because it causes so-called autophagy or "self-digestion" of cancer cells.
Scientists from the Elyakov Pacific Institute for Bio-organic Chemistry (PIBOC) in Vladivostok, and the Experimental Oncology Laboratory in Eppendorf, Germany have been conducting the research for five years, but the exciting results were discovered only recently.
"We have identified a new compound which opens possibilities for creating new groups of anti-cancer medicines," PIBOC director Valentin Stonik told RBTH.
New groups of anti-cancer medicines
Sea sponges are already known to be sources of anti-cancer drugs. In 2014 researchers from Leeds University in the UK obtained the drug Eribulin, which is used to combat breast cancer, from the sponge Halichondria okadai. This substance, however, doesn't cure cancer completely as shown during clinical trials on 1,800 patients, but it extended patients' lives for an average of five months.
Monanchocidin A was first extracted from Monanchora pulchra sea sponges in 2010 during an ocean expedition off the coast of the Kuril Islands. At that time Russian bio-chemists commenced their five-year research of the sponge's anti-cancer properties.
"We found the prototype for the creation of new medicines by having isolated an individual substance, determined its structure and studied the compound,'' Stonik explained to RBTH. "This is a very complicated and drawn-out process."
Only the beginning
The new findings show that cancer cells resistance to some drugs, such as Cisplatin, can be overcome. Trials were conducted and it turns out Monanchocidin A is capable of killing tumor cells resistant to traditional drugs.
Researchers consider it too early to speak of how much more effective and safer Monanchocidin A is than existing drugs, and additional research is necessary. Scientists are now planning the next stage of work, and seek ways of obtaining the new substance in large quantities through either organic synthesis or with the help of bio-technology. Additionally, while tests so far were only conducted on individual types of tumor cells, it is necessary to test the substance on animals.
"We are now at the stage researchers call 'drug discovery,' and this is precisely the moment that can lead to the creation of new medicines," says Stonik. "This is only the beginning, but a very promising one."
All rights reserved by Rossiyskaya Gazeta.