Starting from Sept. 1, foreign companies operating in Russia are obliged by the law to store Russian citizens' personal data in Russia. While Google has managed to find an appropriate platform for its servers, Facebook is refusing to comply with the requirements.
Foreign companies operating in Russia that collect personal data have made mixed progress on conforming to a Sept. 1 deadline that requires them to store all data about Russian citizens on servers located in Russia.
Until now, Russian and foreign companies have stored and processed the bulk of information about Russian nationals in countries that have well-developed hosting services: Germany, the UK, France and the U.S., explains Alexander Volzhinsky, chief architect with Russian servicing company Informzashchita.
Practically all of the world's IT giants have already decided to transfer the relevant data to Russian servers. For instance, Google has already signed a contract to deploy its equipment in Russia at Rostelecom data centers, while Apple has pledged to move its data by Jan. 1, 2016.
Meanwhile, announcements about work in progress to transfer data to Russia have been made by SAP, Samsung, Lenovo, and IBM. The ruling also applies to key online retailers, online services and payment systems.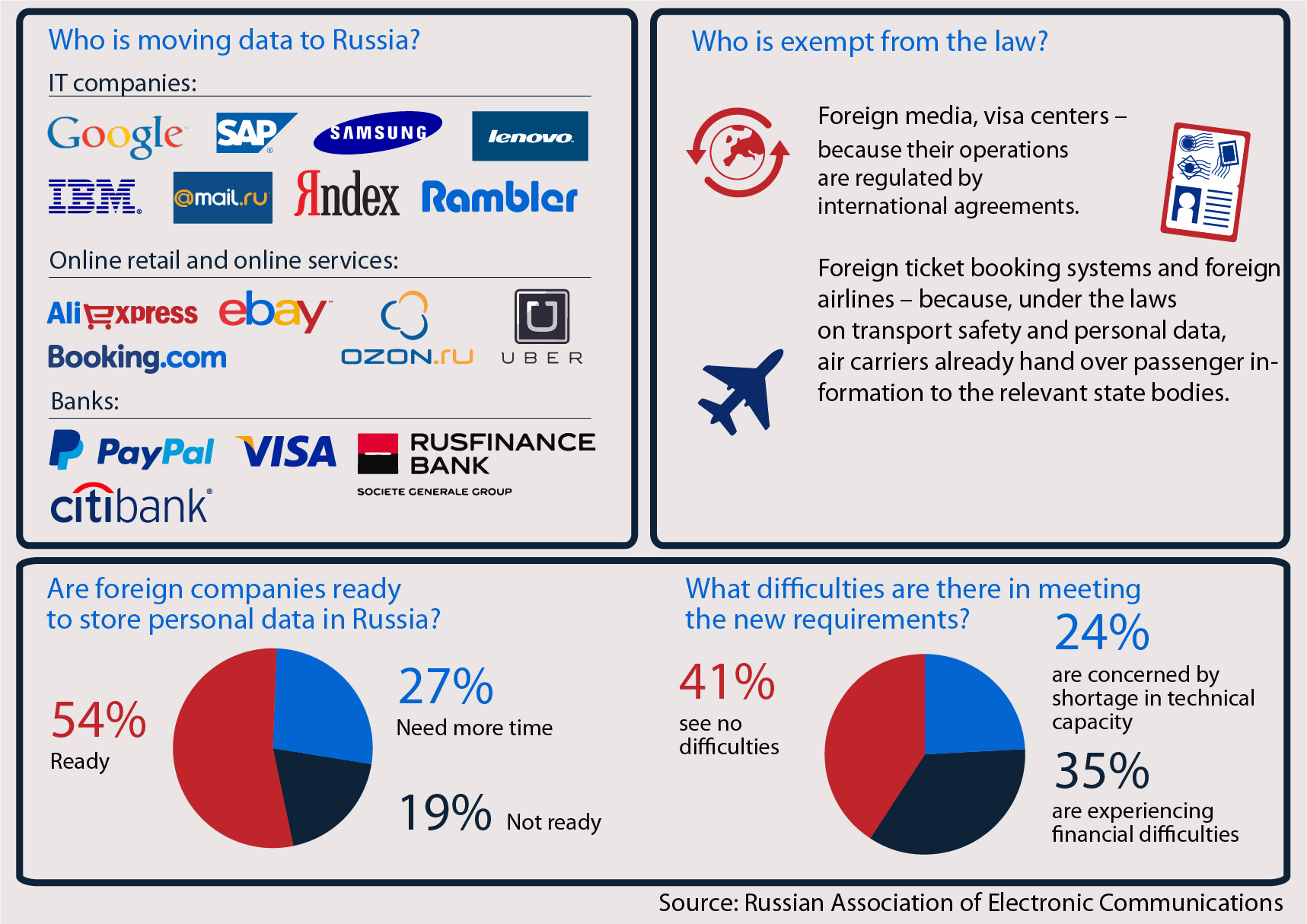 Infographics: Personal data in Russia
According to the Russian Association of Electronic Communications, 54 percent of foreign companies polled are ready to move data to Russia.
"It is hard to assess how much progress each individual company has made in data transfer but, most likely, many of them are already nearing the completion of this work," a source on the IT market told RBTH.
High costs for companies
However, over a quarter of foreign players have not been able to meet the new requirements by Sept. 1 due to shortage of capacity.
The relocation of user data will necessitate the relocation of the relevant infrastructure too, the IT market source explained. Companies will not only have to ensure the technical capabilities to store data in the new location but also to recruit new staff. All this will require additional investment.
"For large companies, total costs may amount to several million dollars," said Alexander Volzhinsky. Most of the money will be spent on purchasing servers and data storage systems, engineering, data protection, communication channels and software licenses, he added.
For example, for Google, which has signed a contract with Rostelecom, the rent of space for its own server will cost 108,000 rubles ($1,600) a month. In experts' estimates, large companies like Google need from several hundred to 1,000 servers.
There are already a number of data centers in Russia that are ready to offer their capacities to foreign companies following the new rules.
"These data processing centers provide both space and equipment; they all have good capacity and are actively developing it to meet the requirements of the new law," said Volzhinsky.
Will Facebook stay in Russia?
On Aug. 26, Russian media reported that Facebook has no plans to transfer Russians' personal data in compliance with the new law. The reports appeared after a meeting between Facebook representative Thomas Myrup Kristensen and the head of the Russian media regulator Roskomnadzor, Alexander Zharov.
The regulator later confirmed these reports, adding however that officially Facebook had not refused to install servers in Russia. However, an IT market source explained to RBTH, Facebook will insist that user information does not constitute personal data.
"Users themselves leave their data on information systems, thus recognizing that this data is public. Furthermore, this information is stored in such a way that all data is divided into different computing resources and, taken separately, this information cannot be clearly linked to a specific user," the RBTH source explained.
In the meantime, Roskomnadzor has promised that no sanctions for failure to comply with the law on storing Russians' personal data will be applied till the end of the year. Thus, foreign companies have been given a deferral till Jan. 1, 2016.
However, according to experts polled by RBTH, the task of transferring data may take from six to 24 months, so it is still rather hard to meet the set deadline.
"Large companies are likely to complete the work in time, or with just 10-15 per cent of it unfinished. The managements of those companies are keen to remain on the Russian market even despite the new requirements," Volzhinsky said.
All rights reserved by Rossiyskaya Gazeta.