Russian technology helps NASA in the search for life on Mars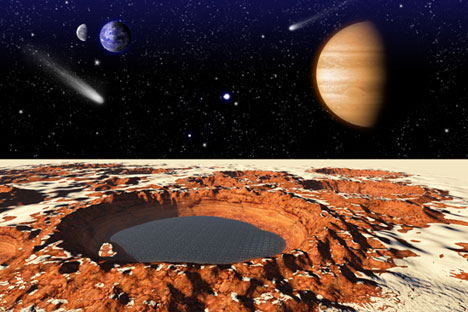 Water on Mars. Source: Shutterstock
Shutter Stock/Legion Media
On Sept. 28, NASA announced an exciting discovery – clear evidence of flowing water on Mars. Scientists continue the search for life on the planet with the help of the Moscow-made DAN instrument on board the Curiosity rover.
Data gathered by NASA's Reconnaissance Orbiter provides strong evidence that salty water flows on Mars. The discovery confirmed what scientists have long suspected.
"Now we have more proof that Mars is a planet with a rich environment,'' Igor Mitrofanov, head of department at the Russian Nuclear Planetary Institute for Space Studies, told RBTH. ``Primitive organisms, similar to the ones we have on the Earth, might exist on Mars."
Research shows that Mars' natural environment used to be similar to Earth's. A few billion years ago, Mars had rivers, lakes and maybe even an ocean. It is still uncertain, however, if and when the Red Planet might once have supported life.
NASA's Curiosity rover is searching for clues with the help of the DAN (Dynamic Albedo of Neutrons) instrument. According to Mitrofanov, the device can detect water in Mars' soil and rocks. DAN works by firing a pulse of neutrons at the ground beneath the rover.
The instrument was created at the Moscow-based Research Institute of Automatics, Russia's leading center of nuclear technology. "There is nothing comparable to DAN in the world", Mitrofanov said. In April, 2015 scientists were able to estimate the subsurface water content using data from DAN. The instrument is able to determine the best areas to search for signs of life on the planet.
All rights reserved by Rossiyskaya Gazeta.