Long-distance cancer tests from the comfort of your home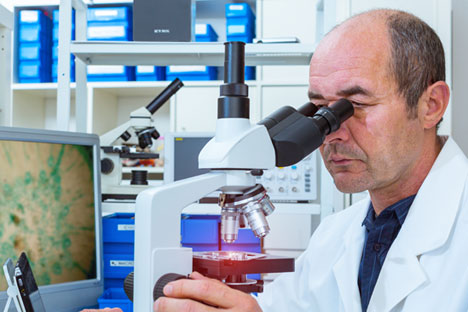 Cells selected for a biopsy are scanned by Digital Pathology, a program developed by Unim. Source: ShutterStock/Legion Media
Shutter Stock/Legion Media
The pioneering technology gives patients from Russia the possibility to have medical care in Great Britain, Germany and the Czech Republic, while doctors can use it for an online brainstorming.
The Unim Project offers patients in Russia the chance to have medical care at the best foreign laboratories. The number of orders is increasing by 10% each month, and the number of users is about several hundred. Patients receive the results by e-mail within two or three days, and the service costs between $170 and $230.
"In about 40-45 percent of cases, physicians make mistakes diagnosing the exact type of cancer cells, and thus prescribe the wrong kind of treatment, which often leads to a patient's untimely death", said Aleksey Remez, founder of Unim. "The main reason for these mistakes is an insufficient number of qualified professionals. As a result, patients must travel long distances and spend a lot of money to see a competent doctor."
Remez points out that with his service Russian patients will pay much less than a trip abroad to visit specialists. The entrepreneur plans to create a library to store descriptions of all types of cancer with illustrations of the cancer cells. The program will be used by physicians as a diagnostic tool.
"Presently, science knows more than 20 kinds of cancer cells and about 1,000 types of cancer, and for each of them there is a specific strategy of treatment,'' said Remez. ``An incorrect classifying of the cells leads to the wrong treatment, and deprives the patient of the chance to survive. Our technology gives Russian patients access to world-class laboratories and specialists that very quickly can provide a diagnosis and recommend the appropriate treatment".
Cells selected for a biopsy are scanned by a program developed by Unim. They are stored by cloud technology and transmitted through the Internet to a foreign laboratory where a group of physicians study the images and reach a conclusion. This service is basically a delivery system for the materials being tested, but a much faster one.
According to Remez, the service is already connected to 10 laboratories abroad and 20 in Russia. On the whole, the project involves 90 physicians. Remez said the service will be useful also for medical centers because they can use it for consultations, conferences, and the management of archival information.
In the U.S. and Europe, the project is used by some best international labs, such as the Memorial Sloan Kettering Cancer Center in the U.S., the Institute of Cancer and Genetics in the UK, and the University of Bologna in Italy.
All rights reserved by Rossiyskaya Gazeta.