Ancient bacteria might help us live to 140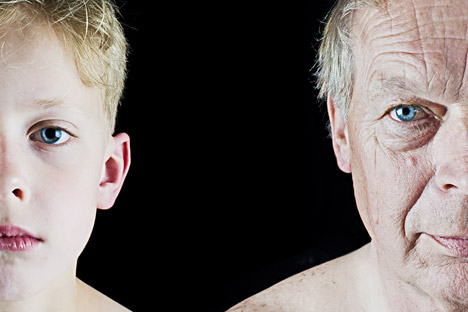 Scientists believe Bacillus F could help people survive to the age of 140. Source: ShutterStock/Legion Media
Shutterstock/Legion Media
A recently-discovered species of the bacteria Bacillus F (Frost) could extend the average human life span to 140 years, and enhance immunity and fertility. This bacterial fountain of youth was discovered by Russian scientist Anatoly Brushkov, who voluntarily became a guinea pig in the project.
For more than six years Russian scientist Anatoly Brushkov has been conducting an experiment whereby mice are injected with Bacillus F, an ancient bacteria discovered in the Siberian permafrost. The experiment has been a success - the mice's life span increased significantly, and they became more active in general. Brushkov is a professor of geology and mineralogy, and he was so intrigued by his discovery that he decided to test the bacteria on himself.
According to Dr. Brushkov, Bacillus F was discovered about 3 years ago, and it survived in a dormant state for many millennia thanks to the Sberian permafrost where he found it during an expedition in Russia's region of Yakutia.
"What surprised us almost immediately was that Bacillus F didn't show any signs of aging," said Dr. Brushkov, who is the head of the geocryology department at Moscow State University's Geology Faculty. "My colleagues and I cultivated the bacteria and started studying them more closely. We discovered that while their cells are similar to our own, the bacteria live longer. So we started injecting mice with a solution containing Bacillus F, and their lifespan increased by up to 30 percent."
Later, when scientists also realized that Bacillus F boosts immunity, Dr. Brushkov injected himself with the same solution, not afraid of the possible side effects.
"I never for a moment have regretted this decision," he said.
The elixir of life?
Even though Bushkov's colleagues didn't hide their skepticism towards his actions, they nicknamed the solution, "the elixir of life".
"Oddly enough, the bacteria died very soon after entering the mice – all of them at the same time – but the mice themselves were rejuvenated," said biologist Vladimir Repin who was head of the laboratory at the start of the experiment.
Some of the mice literally got a second lease on life. "Imagine an old mouse living the last of its average 600 days,'' Dr. Repin said. "We injected it with the solution, and suddenly it started behaving like it was much younger. All the vital life signs returned to normal and the mouse lived for another year or so; their lifespan was extended by 30 percent."
Scientists believe Bacillus F could help people survive to the age of 140. Still, they admit that mass production of the bacteria is currently out of the question until more research on the mechanisms of this rejuvenating process is better understood.
The bacteria with the longest genome
"The atypical cell wall and the peculiar chemical composition of Bacillus F's proteins induce a stronger immune system response than when other microorganisms are injected into the body,'' said Nadezhda Mironova, senior researcher at the Institute of Chemical Biology and Fundamental Medicine at the Russian Academy of Sciences. "While it's a fact that the immune system is more active, the long-term effects of the bacteria are still unknown.''
Researchers said that two subtances found in Bacillus F - the neurotransmitter, glutamate; and the organic acid, taurine - trigger the immune system response. In addition, Bacillus F has a genome that is much longer than any microorganism ever seen before, comprising 600 previously unknown genes.
"I'm sure we will be able to find among these genes the one responsible for longevity,'' said Vladimir Melnikov, director of the Earth Cryosphere Institute at Russia's Academy of Sciences. "The bacteria managed to survive millions of years thanks to that gene, but to offer it to pharmaceutical companies we first have a tremendous amount of work to do. That said, experiments have already resulted in mice restoring their fertility and beginning to reproduce again."
All rights reserved by Rossiyskaya Gazeta.