Russian scientists successfully implant the first 3D-printed thyroid gland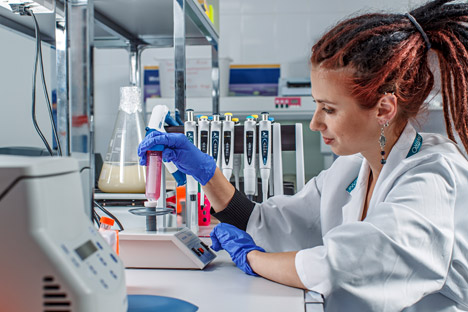 3D Bioprinting Solutions printed the thyroid gland in March 2015.
Press Photo
A thyroid gland printed last March by 3D Bioprinting Solutions is now proven to be fully functional, and experts say the results will revolutionize medicine.
A Russian company announced a successful experiment implanting 3D-printed thyroid glands into mice, and the results will be published next week, said Dmitri Fadin, development director at 3D Bioprinting Solutions.
"We had some difficulties during the study, but in the end the thyroid gland turned out to be functional," Mr. Fadin told RBTH.
3D Bioprinting Solutions printed the thyroid gland - or to be exact, the gland's organ construct - in March of this year. At that time, scientific laboratories were saying that they will start printing human thyroid glands if the experiment is successful.
3D Bioprinting Solutions uses existing 3D print technology that makes items from plastic, ceramic and metals, but it had to make adaptations for biological material, that is, for cells. Before transplanting the artificial gland, scientists "carved out" a thyroid in the mice using radioactive iodine.
Vladimir Mironov founded 3D Bioprinting Solutions in 2013. He a tissue engineer, and co-founder of two startups in the U.S., Cardiovascular Tissue Technology, and Cuspis.
All rights reserved by Rossiyskaya Gazeta.