This is ground control: Tourists to get access to Russian space launches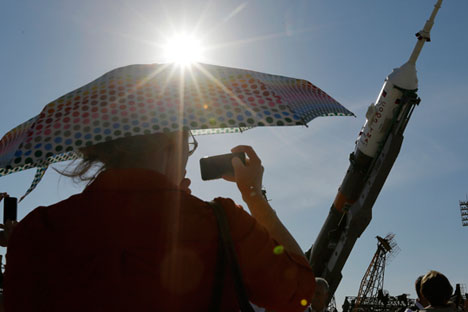 People take photos of Russia's Soyuz-FG booster rocket at the Russian leased Baikonur Cosmodrome, Kazakhstan, May 26, 2014.
AP
Excursions to the Baikonur cosmodrome to see the launch of Russian spacecraft are to be made legal for tourists. Roscosmos, Russia's principal space authority, has selected tour operators who will be licensed to organize tours to Baikonur. Until now the only way to enter the launch pad was to pay to visit as a member of the official Roscosmos delegation.
Those who have ever dreamed of watching a Russian rocket take off for outer space in person now have the chance to make that dream a reality – provided they have the cash. Russia's federal space agency Roscosmos is poised to announce the winners of a competition it has organized for tour operators interested in arranging trips to the Baikonur Cosmodrome to see space launches.
Over 40 companies participated in the competition and the winners, who will receive a license from the space agency, will be announced in December 2015. According to the Roscosmos press service, the selection of operators will make it easier for them to bring tourism to the cosmodrome and for the space agency to supervise the process.
Baikonur, located in the steppes of Kazakhstan, is the world's first and busiest cosmodrome in terms of number of spacecraft launches. In 2014 it launched 21 spacecraft, while Cape Canaveral in the U.S. launched 18. Baikonur is on lease to Russia until 2050.
The Earth-based space tourism market in Russia is rather small, with only 10 or so companies currently taking tourists to Baikonur, according to the RBK business daily, which nonetheless estimates the total turnover at over $100 million a year. And most of these companies, which are not officially accredited, do business thanks to personal connections.
"For starters, it is necessary to have contacts within Roscosmos. Then you can make agreements with Baikonur directly," said Tatyana Avgustinovich, project manager at Spaceport Travel Agency (STA).
Foreign companies also sell tours to Baikonur, however, these companies do not act as operators.
Although Roscosmos will issue licenses to the newly selected operators, its income – which comes from the state budget – will not change. According to the space agency's press service, its income depends on the number of spacecraft launched, not on the number of tours sold.
Visiting Baikonur today
Seeing the launch of a manned spacecraft is one of the most popular programs in Earth-based space tourism. Spaceships with cosmonauts aboard are launched from Baikonur four times a year. There are also launches of cargo spacecraft, which are more frequent, but they go into space without pilots and are therefore less popular among tourists, according to Avgustinovich.
"The amount varies depending on the hotel price and there is always the risk that during launch periods prices can increase," said Avgustinovich.
During their visit to the spaceport, tourist groups are accompanied by Roscosmos chairman Igor Komarov. According to Kseniya Nikitonova from Vezhitel Tour, the visitors receive VIP passes and basically come to the launch pad as members of the delegation.
These tours are popular all over the world: Nikitonova lists tourists from the U.S., Canada, the UK, Germany, France, the Netherlands, Switzerland, Japan, India and Australia among those who visit Baikonur. STA has also noticed that tourists from China have also become very interested in the launches.
'I'll remember this experience for a long time'
Thirty-five-year-old Anne-Marie Corley from Dallas, Texas, who visited Baikonur in 2011 on a U.S. Fulbright Scholarship, describes the rocket launch as "amazing."
"We got to be so close to the rocket, and then to walk up to the launch pad afterwards... it was truly incredible to see such a massive rocket take off. It was a night launch, so that was also beautiful to see against the dark sky," said Corley, whose program included not only the rocket launch but also getting acquainted with local traditions, camel rides and a visit to the Baikonur landmarks.
"I enjoyed the town of Baikonur and swimming in the pool where cosmonauts used to recover before they started going directly back to Star City, and seeing the launch pads where [Soviet space shuttle] Buran took off and where [first woman in space] Valentina Tereshkova was launched," she said.
Corley was also able to see Gagarin's gazebo and other places associated with the legendary cosmonaut in what she called "the heart of Russian spaceflight history."
"I'll remember this experience for a long time," she said.
All rights reserved by Rossiyskaya Gazeta.