Age of the Aral Sea is less than 24,000 years - research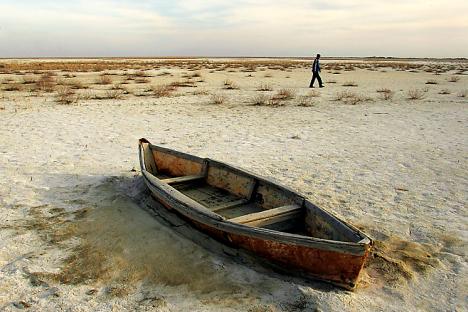 Scientists used the radiocarbon dating method to determine the age
An international academic group estimates the age of the Aral Sea to be no more than 24,000 years, the Nauka v Sibiri edition of the Russian Academy of Sciences' Siberian branch reported.
Senior research fellow of the Sobolev Geology and Mineralogy Institute (Novosibirsk) Sergei Krivonogov, who has been studying the Aral Sea for 13 years, took part in the studies, the report said.
"The scientists used the radiocarbon dating method to determine the approximate age of the Aral Sea. They found out that the Aral Sea originated 20,000-24,000 years ago," the report said.
They drilled through Aral Sea sediment from the surface layer to the underlying deposits, which had never been done before.
Samples of carbon-bearing material (mollusk shells, small shell-fish) were studied in an accelerated mass spectrometer and precise information about Aral Sea transformations was obtained.
The researchers stated that the pre-Aral region was home to ancient civilizations, while man-made changes to the natural landscape had been introduced for quite some time, the first of which was the use of fresh water for irrigation purposes.
The Aral Sea has had shallow periods similar to the current one over the past 2,000 years, the researchers said.
"The scientists established that there were two lengthy periods of regression, during which water levels fell significantly, and the sea bottom became visible, and two shorter periods of transgression, [followed by] a modern period of man-made regression," the report said.
Throughout the past 2,000 years, the Aral Sea was often times, small, and practically disappeared, and was in a state that was comparable to the current one, rather than being full of water, as it was some 50 years ago.
The latest period of transgression began in the late 16th century when the Amu Darya River returned to the lake. The Aral Sea was described as a major water pond in the era of Peter the Great or perhaps Ivan the Terrible. It remained a major source for 300 years, and the Sea is a great, living memory, as being full of water, blue and abundant with fish.
"Judging by [the sea] geology, this is a result of a favorable combination of factors which is not typical [for the Sea]. Having studied ancient history, it is possible to say that the Aral Sea was very shallow, or even non-existent, much more often," the report said.
All rights reserved by Rossiyskaya Gazeta.