Russia's first fast-neutron reactor goes online in Urals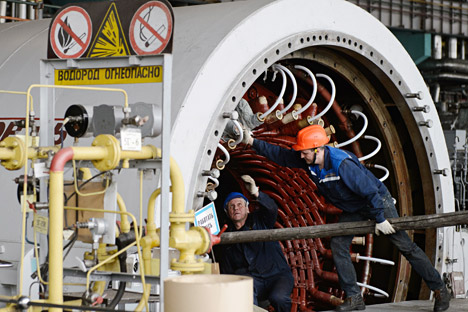 SVERDLOVSK REGION, RUSSIA. APRIL 23, 2015. Workers doing maintenance in the turbine hall of Beloyarsk Nuclear Power Plant in Zarechny. Reactor No. 3 has been shut down for scheduled refuelling and maintenance.
Donat Sorokin/TASS
4th block of Beloyarsk nuclear power station will minimize radioactive waste.
The fourth power block of the Beloyarsk nuclear power station, whose BN-800 reactor functions on fast neutrons, has been added to the network and has delivered its first electric energy to the Urals, according to an announcement made by the Rosenergoatom company.
"A wonderful event has taken place: The Urals now have a new nuclear source of electric generation," said director of the Beloyarsk nuclear power station Ivan Sidorov.
According to Rosenergoatom's general director Andrei Petrov, the BN-800 reactor is a great event in Russian nuclear energy. He reminded everyone that the previous power block, with a similar BN-600 reactor, was launched 35 years ago.
Rosenergoatom explains that power blocks functioning on fast neutrons substantially expand the fuel base of nuclear energy and minimize radioactive waste thanks to a closed nuclear-fuel cycle.
Currently, fast neutron nuclear reactors are used only in Russia at the Beloyarsk nuclear power station. India, China and South Korea are building such structures, while Japan also has plans to adopt the technology.

First published in Russian in Lenta.ru.
All rights reserved by Rossiyskaya Gazeta.