Sweet tooth? Print yourself some chocolate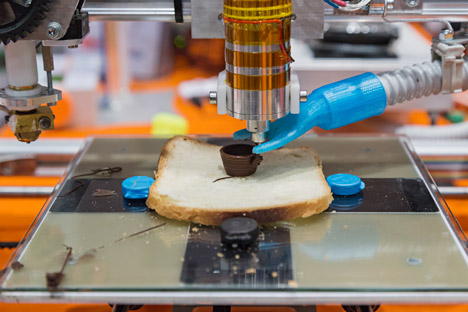 3D-printer makes chocolate figures.
Shutterstock/Legion Media
Russian students have created a new way to 3D print complex pastry figures more than 5 centimeters in height. This outperforms existing 3D printing technology, which can't produce figures more than 3-5 cm tall. In the near future, everyone with a sweet tooth will be able to download an app onto their smartphone, and select the ingredients and shape of the chocolate candy.
Students at the Samara State Aerospace University have created an experimental 3D-printer to make large chocolate figures. In January it will be tested, and soon this technology will be available in one of the city's restaurants.
The breakthrough consists in a novel way of supplying and cooling the chocolate in the 3D printer. This solves the main problem of "printing" large figures when the chocolate "ink" melts and is unable to freeze properly. The students created the new system in collaboration with the head chef at a local restaurant.
Dark, white, or milk?
"We simultaneously use several cooling systems," said Vera Panova, one of the printer's developers. "The first is a sort of big hair drier that blows from different sides. The second is production intervention -- we add certain products and the chocolate cools faster; not in ten minutes, but in three to five."
There are strict requirements for the material used in printing. It must be high-quality chocolate without palm oil and other additives, making it expensive. The raw material's incompatibility with the melting process transforms it into flakes when printed; this makes extrusion more difficult. The developers now use only dark chocolate, but in the future they also plan to use white and milk chocolates.
The new technology will soon be used in Samara's restaurants, pastry shops, and cafes. It is expected not only to accelerate pastry production, but also make it more diverse. Currently, it takes an hour or more to make complicated figures by hand using various types of chocolate. The chocolate 3-D printer can print details in 10 minutes or less.
Special software will help café visitors download a smartphone app, and select the ingredients, shape and type of chocolate. For now, there will only be three or four varieties.
Five students are working on the project, investing their own resources. Several companies have already shown interest.
In the summer of 2016, they intend to unveil a 3-D printer to make caramel instead of chocolate figures. However, a new cooling system is needed for this. At the moment, a 3-D caramel printer does not exist anywhere in the world.
Printing food for outer space
The idea of creating the new device grew from a wish to provide cosmonauts with a balanced diet. But the students decided to first develop a simpler technology, and thus the idea to make a chocolate printer appeared. Later, they intend to return to the original idea, and develop a 3-D food printer with a diverse and balanced menu.
"It's difficult to create a `balanced diet printer' but we've already begun working on this," said Panova. "We want to make food tailored to each cosmonaut so they can have nourishment based on their individual needs. However, we haven't yet spoken to them about this idea."
All rights reserved by Rossiyskaya Gazeta.