Russian equipment plays vital role in ITER's thermonuclear reactor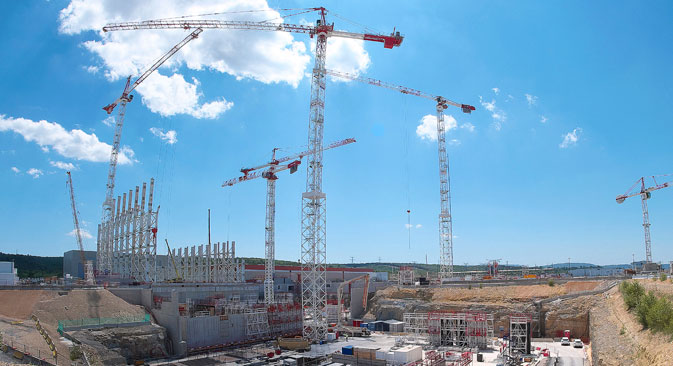 International Thermonuclear Experimental Reactor in France.
AFP / East News
Russian engineers have developed innovative circuit breakers for the International Thermonuclear Experimental Reactor (ITER) in order to safely turn off electrical circuits during repairs, upgrades, and maintenance.
In December 2015, engineers at the Electrical Equipment Plant (EEP) in the west Russian city of Velikiye Luki developed new circuit breakers for the International Thermonuclear Experimental Reactor (ITER) under construction at the Cadarache Nuclear Research Center in the south of France.
Russian scientists spent 18 months developing the new equipment, and they managed not only to come up with an original solution, but also to significantly reduce the cost of production. The circuit breakers are designed in a modular fashion, which allows piling them like toy blocks, thus increasing the passing current. Thanks to the circuit breakers, workers will be able to ensure the safety of the reactor when disconnecting electric circuits during repairs, upgrades, and maintenance. Prototypes of the new equipment have been successfully tested, and production will begin in 2018.
"We wanted to help ITER keep the cost of circuit breakers low," Vladimir Ostreiko, the deputy general designer at EEP for scientific and technological development and publications, told RBTH. "Our modular design allows making circuit breakers for virtually any currents; for instance, 100,000, 200,000 or 300,000 amperes. By adding different numbers of modules, we can create circuit breakers for other customers; for example, the chemical and metallurgical industries."
ITER is an ambitious collaborative effort among the European Union, U.S., China, Japan, India, Russia and South Korea. Located about 60 kilometers northeast of Marseille, ITER will allow scientists to replicate the reactions taking place in the Sun and other stars, and to demonstrate the potential of nuclear fusion as a viable source of electricity. Construction of the reactor began in 2012, and while it was planned to be completed by 2016, the project's high costs postponed the opening to 2025.
ITER's experimental fusion reactor is based on the ``tokamak'' concept, which is also a Russian contribution. The tokamak is a device invented in the 1950s by Soviet physicists Igor Tamm and Andrei Sakharov, who were in turn inspired by their colleague, Oleg Lavrentiev. A tokamak utilizes a magnetic field to confine the plasma in the reactor.
In Russia, more than 100 companies are already working on tasks related to ITER. The country participates only by supplying equipment, and in total Russia will deliver an amount valued at 1.5 billion euros, which is equal to approximately 10 percent of the reactor's total cost.
Russia's main challenge is production of superconducting magnets, diagnostic sensors, and hot plasma composition analyzers. The country spent almost 11.5 million euros on this in 2014 alone.
All rights reserved by Rossiyskaya Gazeta.