A Russian startup allows Americans to test air quality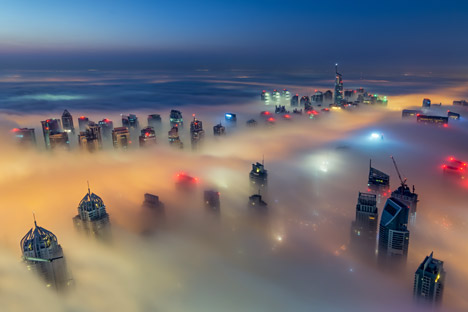 A new Russian startup offers a service to analyse and forecast air quality in cities.
Shutterstock/Legion Media
A Russian startup offers a service to analyse and forecast air quality in towns and cities. It's currently available only in a few major cities in the U.S. and Europe, but developers expect it will be in great demand on the mobile health market.
A few years ago young Russian scientists were doing research in atmospheric physics when they realized it's possible to forecast the level of pollution in different areas of cities. This was the beginning of AeroState, which analyses air quality and gives recommendations to users.
"For example, a person wants to go jogging in the morning; well, our service allows you to see if there is smog nearby or if the air in another city park is better," said Dmitry Solomentsev, AeroState's founder.
To forecast air quality AeroState uses an integrated approach, combining the analysis of physical and chemical phenomena, satellite data, mathematical models of the atmosphere, and pollution data. It also predicts wind direction over an entire continent, as well as just within the city, simply by applying machine-learning algorithms and artificial intelligence for a more accurate forecast.
AeroState has seed investment from Michael Kokorich, the Russian businessman and founder of Dauria Aerospace, which is Russia's first private satellite developer.
Who will define air quality?
Air quality forecasts and maps are distributed through a web-based API interface. To get free access, the user must sign up and get a personal key.
In low resolution, the service provides information and suggests general forecasts of air quality around the world. In high-resolution, forecasts with an accuracy of up to a city block are available for users in London and Barcelona; in the U.S., this is possible for New York City, Chicago, Denver, Los Angeles and San Francisco. The U.S. is a priority market for AeroState, the founders said.
"Our service is closely related to quality of life issues," Solomentsev said. ``In those countries where the quality of life is high, people think about the environment."
Air quality is calculated by a method developed by the U.S. Environmental Protection Agency. AeroState will also offer this technology in other international markets, including Asia. Solomentsev sees much potential for its service in China, where air pollution is a major issue.
"Our main customers are outdoor sports businesses, as well as buyers of real estate," said Solomentsev. ``The information we provide is important because in a big city the air quality can vary in different areas."
Mobile health: is it a growth opportunity?
In the future, AeroState plans to develop additional services that can be integrated into fitness bracelets and other wearable health devices. Solomentsev and his team see potential in the opportunities offered by the rapidly growing market of wearable electronics.
According to the IDC research company, in the third quarter of 2015 producers of various wearables sold a total of 21 million units, which is three times more than the number of smart watches, fitness trackers and other devices sold over the same period in 2014. Among the leaders of mobile health are such companies as Samsung, Google, and Apple.
The service has two main competitors - the European startup, PlumeLabs, and the Israeli, Breezometer. They also are targeting the American market. However, according to AeroState's main investor, Michael Kokorich, their service has the advantage of accuracy.
«AeroState has a technological advantage in that it allows the user to obtain information on air quality anywhere in the city,'' Kokorich told RBTH. ``That is why it has the potential to succeed in the mobile health market and other areas. Potentially, the service can be used in smart home technology. "
All rights reserved by Rossiyskaya Gazeta.