Sanctions convince Russia to produce its own rocket fuel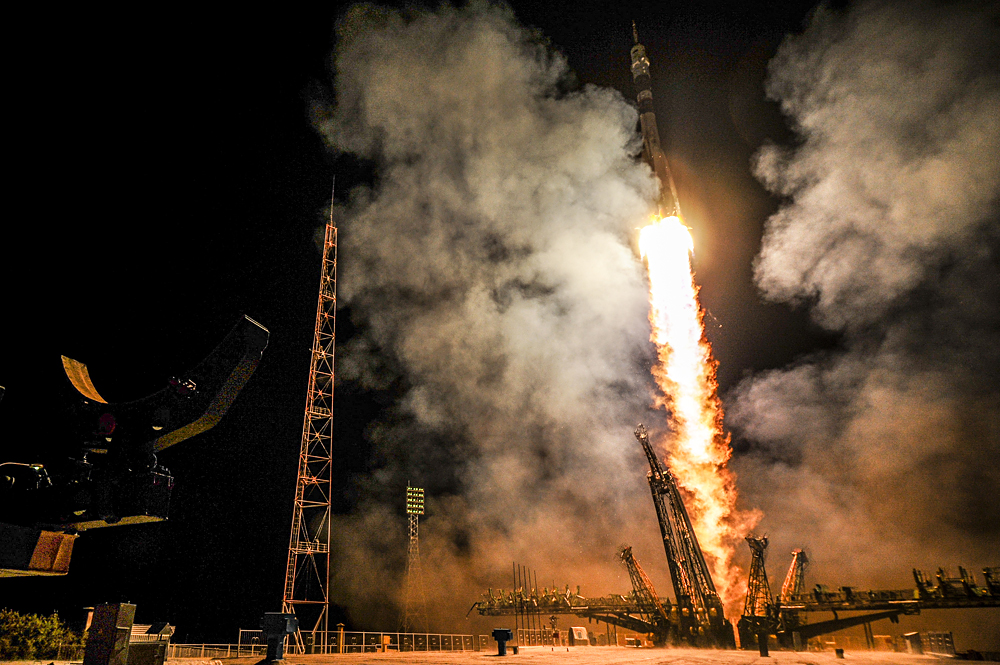 The launch of the Soyuz ТМА-14 rocket, Baikonur Cosmodrome.
Ramil Sitdikov/RIA Novosti
Russia is completing a new secret plant for producing hydrazine, a fuel for spacecraft. Foreign supplies of hydrazine, which Russia previously relied upon, are banned under western sanctions due to the fact that this fuel can be used in military programs.
Russia is resuming production of hydrazine, a fuel for rockets and spacecraft. The construction of the new production facility in the Nizhny Novgorod Region (about 400 km east of Moscow) was completed in late February by a subsidiary of the Russian Federal Space Agency (Roskosmos).
Supplies of hydrazine to Russia are banned under western sanctions due to the fact that this type of fuel is used in military programs. The estimated capacity of the new facility is 15 tons a year, the company said in a press release. The total investment, the facility's exact location, and other details have not been disclosed. It should be fully operational later this year, and the machinery is now being tested and final preparations are under way.
What is hydrazine?
"Hydrazine is a very simply organic substance consisting of two molecules of nitrogen and four molecules of hydrogen,'' explained Ivan Moiseyev, head of research at the Institute of Space Policy. "What is used in the rocket industry is its derivative, in which one hydrogen molecule is replaced with a more complex compound. This makes it possible to get more hydrogen and the fuel becomes more efficient, that is, it produces more energy per kilogram of weight."
Hydrazine fuel is used by upper-stage rockets. As a rule, modern rockets are first taken to a low orbit, after which a booster is used to take them to a higher target orbit. The heavier the fuel, the more expensive is the flight. By improving fuel efficiency, as is the case with hydrazine derivatives, it is possible to achieve considerable cost reduction.
While simple to produce, hydrazine is highly toxic and belongs to the category of the most dangerous substances. Neutralizing it is very expensive. Furthermore, the production of a high-efficiency fuel must meet very rigorous standards. That is why previously Russia found it easier and cheaper to import hydrazine. Sanctions, however, changed all that.
Soviet-era hydrazine
Before 1993, Russian hydrazine was produced only in the Novosibirsk Region in Siberia. In subsequent years Russia purchased it abroad, mainly from the Germany company, Kayser Threde.
Hydrazine derivatives are used to fuel the Russian rocket, Proton, the manned spacecrafts Progress and Soyuz, as well as orbital and interplanetary stations.
In 2014, because of international tensions, European hydrazine supplies to Russia were stopped. Roskosmos announced that this could affect launches of Proton-M rockets and the new intercontinental ballistic missile, Sarmat.
The strict embargo did not last long. In October 2015, the European Union allowed supplies of hydrazine and its derivatives into Russia. However, those supplies could only be used to fuel European spacecraft and joint programs with the European Space Agency, such as the ExoMars project.
According to officials from Roskosmos, Russia by then had accumulated sufficient stockpiles of fuels featured on the sanctions list. Nevertheless, it was decided to resume domestic production of hydrazine. In addition to the one in the Nizhny Novgorod Region, another facility is being built in Bashkortostan (1,300 km east of Moscow) at the Gazprom Neftekhim Salavat plant.
Boom for domestic producers
Russia seeks to resume the production of other types of fuel that have been affected by sanctions.
By 2018 the Salavat chemical plant plans to restore the production of naphthalene, which among other things, is used as a fuel for T-4 combat aircraft. According to the company's annual report, the Russian space and rocket industry's demand for naphthalene is expected to rise to 5,000 tons a year by 2020.
At the end of 2015 the company Sintez in the city of Dzerzhinsk in the Nizhny Novgorod Region launched the production of another fuel, hydrogen peroxide, which Roskosmos no longer can import thanks to sanctions. This fuel is used by Soyuz carrier rockets, and in the defense industry.
All rights reserved by Rossiyskaya Gazeta.