Boobs are big business for Russian messaging startup Tittygram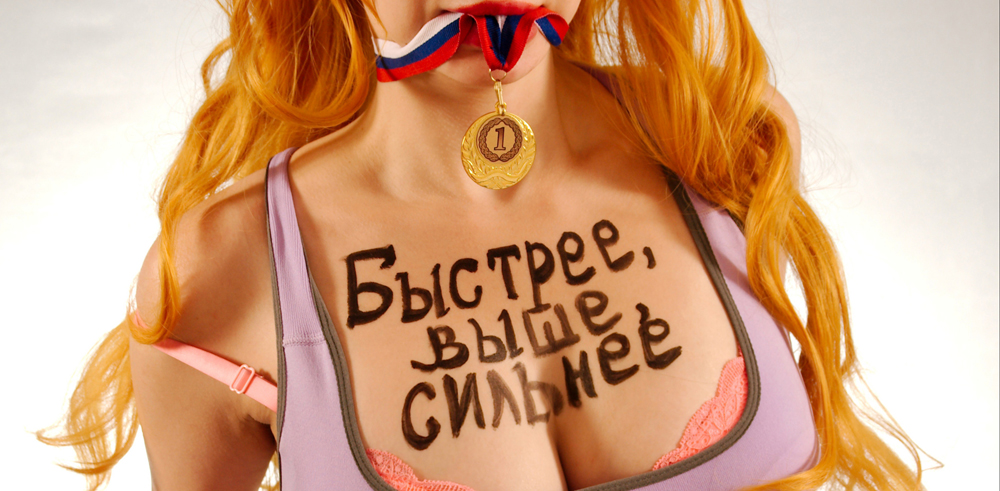 The anonymity of the models is the main principle of the service. The message reads: 'faster, higher, stronger'.
Press photo
Virtual postcards featuring messages scrawled on impressive décolletage have brought $65,000 to the Russian online service Tittygram in one year.
While the financial crisis has hit many of Russia's entrepreneurs hard, the founders of messaging startup Tittygram are seeing business boom.
The service, launched in spring 2015, allows customers to send a virtual card with a greeting or any other message written on a chest, male or female.
You select your favorite model online and send the text of your future message. As soon as an hour later, you will receive a ready photo card that you can send to a friend as a gift.
The service, the brainchild of Russian programmers from the city of Ulyanovsk (around 550 miles east of Moscow), costs $30. There is a more budget option for $8, but in this case, you cannot choose the model – it is the administrator who decides who will be the "carrier" of the message.
As many as 63 percent of orders for the cards come from outside Russia, with the company having received in English, Hebrew, Hindi, Korean and Japanese.
According to company statistics, 30 percent of customers return for new cards, and some even use Tittygram as a kind of chat service.
What is the secret of its success?
"The secret of successful projects is simple – the idea must be funny. We decided to concentrate on what receives the most likes," Vladimir Gritsenko, Tittygram's co-founder and project manager, told RBTH.
According to Gritsenko, 2 million rubles ($26,000) was originally invested in the project, but by the end of 2015 he had already made a total of 5 million rubles ($65,000). About 6,000 messages have been sent through the service to date.
However, Gritsenko admitted that cards with female cleavage are seven times more popular than those with male torsos – Tittygram also offers a service with male models.
Who are the models?
The service is in demand not only with customers but also with models.
"In the beginning, I personally was looking for young women who would agree to participate in our project on Russian social networks," said Gritsenko.
"There are a large number of communities with liberated women. But then things started to happen and now women themselves write to us and send in their photos for consideration."
The anonymity of the models is the main principle of the service. The company currently "employs" 10 female models, but around 60 others, including men, work with Tittygram on a freelance basis.
About 70 women have featured in messages since the project was launched.
Applications came from different countries. "Once we were approached by two women from the United States – they were looking for new experiences. Also, we had a Chinese woman, who lived in Russia," said Gritsenko.
While he would not disclose how much the women make, according to Russian media, the fee ranges from $2 to $6.5 per shot.
All rights reserved by Rossiyskaya Gazeta.