Battle for Russia's IT market: Can local developers stop global giants?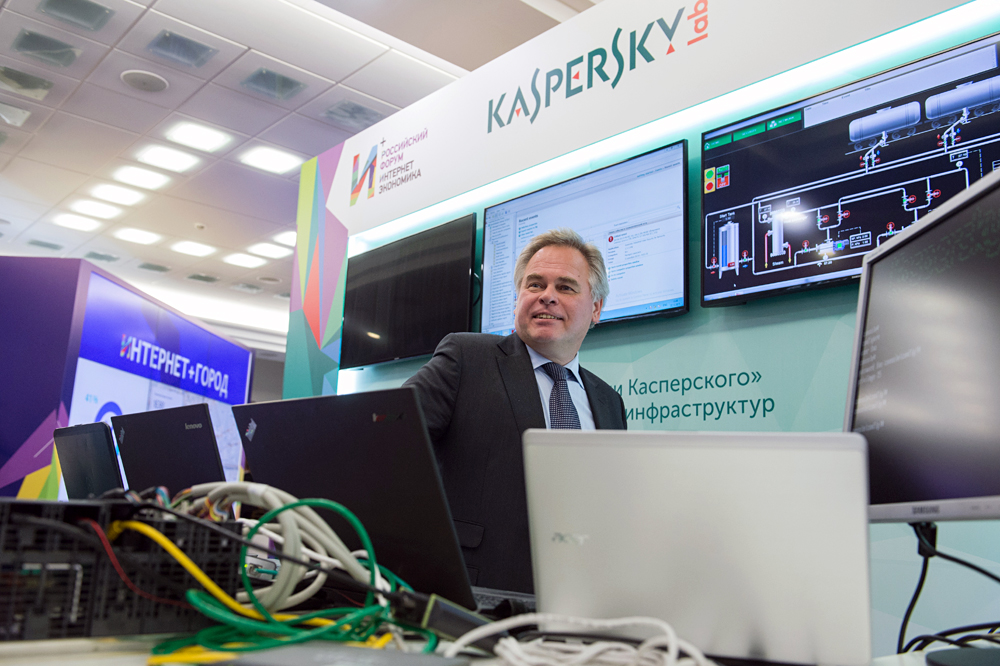 Head of Kaspersky Lab Yevgeny Kaspersky near the Lab's stand during the exhibition of Russia's first Internet Economy Forum, Dec.22, 2015.
Sergey Guneev/RIA Novosti
Imports comprise a major share of Russia's IT market, but experts believe that over the next several years domestic developers may start replacing foreign competitors.
The Russian IT market is currently dominated by imports. The only exception is perhaps the IT services segment, where Russian developers account for about 60-70 percent of the market. When it comes to systems integration, for example, they have a better understanding of local customer needs and can adapt IT solutions to meet customer demands.
As far as other segments of the IT market, things are different. For example, it is estimated that Russian products account for only about 20 percent of software sales. Domestic developers, however, believe they are capable of occupying a more significant share of the domestic market, not to mention foreign markets.
Recently, both the competitive ability of Russian IT products and their exports have posted growth. According to Russoft, the association of software developers, in 2015 Russian software exports rose by 16 percent, exceeding $7 billion.
"With the right attitude, Russian software companies could increase their share of the domestic market to 80-90 percent in a matter of just three years,'' said Yevgeniya Vasilenko, executive director of National Software, a fund for promotion of domestic IT products. ''Russian companies have already been successful in different areas, including in antivirus and other security software, automatic design systems, and document management systems."
Taking on Microsoft
Customers in Russia are unlikely to give up Windows any time soon and switch to domestic IT solutions. In the corporate sector, however, where there is demand for more complex and specialized software, Russian companies already enjoy a strong position. This especially concerns enterprise resource planning (EPR) systems, where Russian players – such as 1C, Parus, Galaktika – are boosting their share of the market.
"EPR systems are an example of how Russian high-tech companies successfully compete with leading international corporations," said Boris Nuraliyev, director of 1C.
According to the International Data Corporation (IDC), over the past 10 years 1C's share of the Russian market of EPR systems has risen from zero to over 30 percent. Boris Nuraliyev points out that EPR systems produced by 1C accounted for over 80 percent of the total number of automated workplaces in 2015. "Furthermore, that figure was achieved in a free market, without any protectionist measures imposed by the state," said Nuraliyev.
Hardware advance
The Russian IT market is dominated by foreign manufacturers of computer hardware. They account for nearly 100 percent of the Russian market of server systems and computer components.
Most of the hardware has for a long time been manufactured in Asia, primarily in China. Russian manufacturers, however, have recently ventured into the production of computer components.
Not a long time ago, the Russian company MCST, which used to work in the defense sector, began manufacturing processors and computers. In terms of their power, MCST processors could be compared to the processors of the Intel Atom family.
"Russian processors exist and they are quite numerous," said Konstantin Trushkin, marketing expert to the managing director of MCST, a universal processor developer. ``We shall soon release an even more powerful processor, an 8-core Elbrus-8S with a CPU clock rate of 1.3 GHz. Its power is comparable to that of Intel Core i7 processors."
For the time being, computers powered by Russian processors are considerably more expensive than their foreign equivalents. This is primarily due to their small production volumes. More sales, of course, would mean lower prices.
The Russian Ministry of Information Technologies and Communications estimates that the Russian IT market is worth more than $17 billion a year. Of that amount, some $6 billion comes from IT services; about $3 billion from software; and nearly $8 billion from hardware.
All rights reserved by Rossiyskaya Gazeta.