Make money while you walk with a new Russian app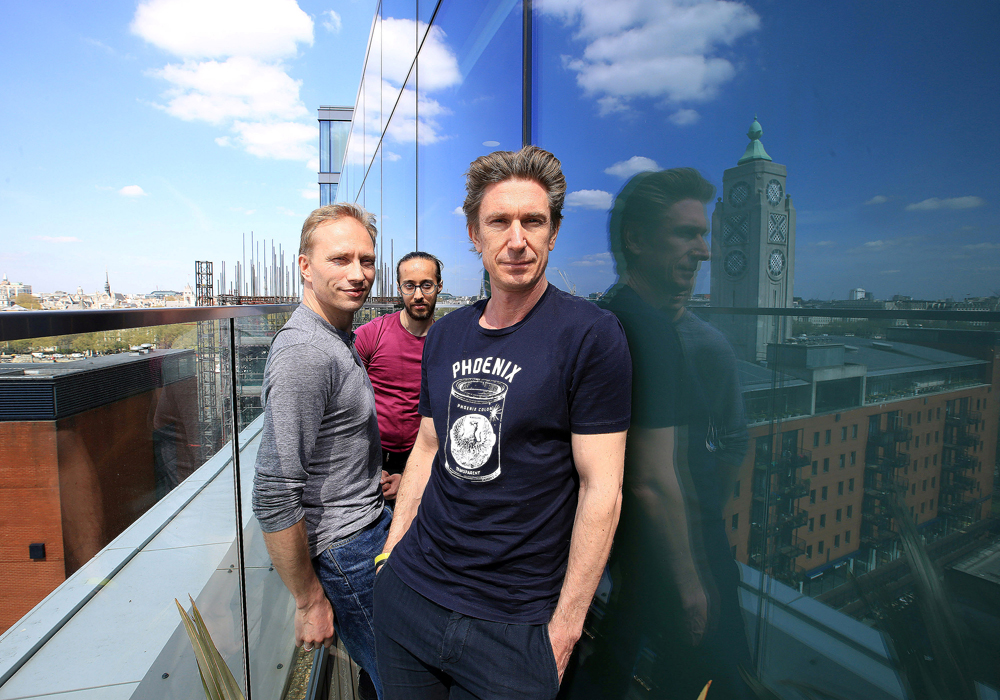 Co-founders of sweatcoin (L-R) Oleg Fomenko, Ranbir Arora and Anton Derlyatka pose for a photograph at their office in London, Britain
Reuters
Russian entrepreneurs launched Sweatcoin, which earns a user virtual money for walking. For now, it's only available in the United Kingdom.
Russian entrepreneurs, Anton Derlyatka and Oleg Fomenko, launched the Sweatcoin app in the United Kingdom earlier this year. Users can earn money, denominated in "swc" units, for every step walked. In order to earn one "swc," a person must take 1,000 steps, and with this money you can buy goods and services on the app's e-commerce platform: everything from sports attire, to footwear, even a session with a personal trainer, and more.
"The future is in virtual money," says Oleg Fomenko. "Today, there's a large array of goods and services for sale, but people move less and less in our highly technological world. This will eventually lead to our virtual currency becoming more valuable."
Derlyatka conceived the startup a year ago because he enjoys long-distance running and wanted a way to motivate people – pay them for every step made. Many of Sweatcoin's primary users are people who already lead an active lifestyle, such as runners and those using fitness trackers. Cumulatively, they have walked more than one billion steps and earned over one million "swc."
Walking transparently
Fomin says that Sweatcoin's advantage over competitors and trackers is its more precise step count. The algorithm, together with GPS and other statistics, guarantees transparency and prevents users from fabricating steps.
In the first round, business angels invested about $900,000 into Sweatcoin, which has more than ten partners. These include British suppliers of sports goods and services, such as Vivobarefoot, BoomBoom Athletica, and Fitbug. Sweatcoin's developers eventually plan to trade the "swc" on stock exchanges, along with other virtual currencies.
For now the service is available only on iPhones in Great Britain. Fomenko said that the UK was not chosen at random. The country has an obesity problem, and its citizens are not indifferent to the issue of a healthy lifestyle. In the near future, developers plan to launch the app for Android users, and to enter the U.S. market.
"For now, our app has no equivalent," said Fomenko. "The closest thing to it are just a few companies that try to reward clients for physical activity."
The idea of making money on movement has inspired others to copycat the Russians. British BitWalking, for example, is a company that plans to launch a similar app.
The bitcoin's (non)future in Russia
Internet investors share Fomin's optimism on the future of virtual currencies. In early 2016, Sweatcoin secured about $600,000 from investors to add to the $900,000 from the previous first round.
Unfortunately, Sweatcoin probably won't appear in the developers' homeland. The Russian Central Bank has banned money surrogates, such as bitcoins and other crypto-currencies. These services won't be able to offer Russian users their own currency in the form of bonuses, such as in Europe. Head of product development at Yandex.Money, Alla Savchenko, said that many companies already reward users for certain activities by using money surrogates. One example is bonus programs offered by airlines that allow Russian travelers to pay for flights with miles already flown.
Savchenko points out, however, that there is a clear difference between loyalty programs offered by companies registered in Russia, and virtual currencies that exist outside of a specific national jurisdiction.
Subscribe to get the hand picked best stories every week
All rights reserved by Rossiyskaya Gazeta.