Why mushroom exports to Finland may harm Russia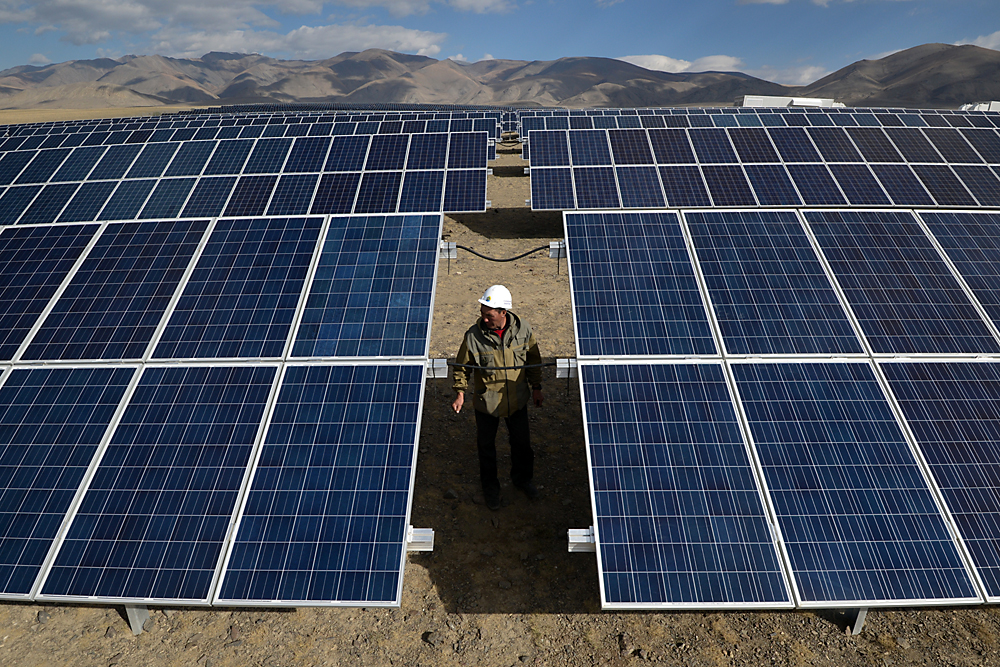 Solar power expert reviews solar panels at the Kosh-Agachskaya solar power plant in the Republic of Altai, launched on September 4, 2014.
Alexandr Kryazhev/RIA Novosti
Russia has the technology, resources and opportunities to develop alternative energy, but does not have enough political will to make it economically viable at the moment, says Valentin Parmon, Russia's leading expert on catalysis technology.
Traditional sources of energy such as oil, coal and gas are so inexpensive and accessible in Russia that alternative sources will remain economically unviable for a long time.
"In Russia, alternative energy sources are currently used only where there are certain problems with the supply of traditional fuels," Valentin Parmon, the long-time head of the Institute of Catalysis at the Siberian Branch of the Russian Academy of Sciences, told RBTH.
The scientist says the situation can be changed dramatically if something forces the authorities to take a political decision and make alternative energy economically viable.
One of the triggers could be a possible transition of the West to aviation fuel with biological additives. Scientists warned the Russian government about such a transition four years ago, Parmon says.
Even as many airlines are exploring this option, there is no public debate on the potential challenges and opportunities for Russia.
"It may be worse than any economic sanctions, because almost all passenger airplanes in Russia are imported," Parmon says.
"Millions of liters of this type of aviation fuel is being produced in the world, so if Russia will not launch production, for which it has both technologies and raw materials, we'll have to import it."
Finland already produces aviation bio-fuel from orange milk cap mushrooms, which are imported from the Leningrad Region.
The catalysis technologies developed at Parmon's institute can be used for solar energy, or generate electricity from any biomass, hard coal, sewage and other rubbish.
Solar energy and clean cars
In the Soviet era, the Institute of Catalysis developed a reactor and catalysts that were capable of converting solar energy into chemical energy with an efficiency rate of 43 percent.
"Using similar technology, we can convert nuclear power into chemical energy (nobody thought of putting the catalyst inside the reactor core before us), as well as microwave radiation energy," Parmon says.
The Institute of Catalysis has also developed a device for cars, "in which a portion of the fuel is converted into a mixture of hydrogen and carbon monoxide before it enters the cylinder of the engine," Parmon adds.
According to him, this technique reduces two problems at once – it ensures clean emissions and improves fuel efficiency by 30 percent. Such devices are "more efficient than what current hybrid vehicles use, and are easier to manufacture," he adds.
Hard coal, rice husk and sludge from wastewater treatment plants
The Institute of Catalysis has also proposed the use of catalysts for combustion of solid fuels, including very low quality fuels.
"Five boilers already operate in Russia, using this technology," Parmon says. "They do not produce smoke. Such boilers need two to four times less coal than conventional ones. There are four boilers in Siberia. One is in the Amur region. These are industrial, not experimental, boilers."
"The same principle is being developed now for burning sludge from wastewater treatment plants," Parmon says.
"Water treatment plants have huge fields, where they accumulate huge amounts of this sludge, which cannot be released, because it may contain toxic elements. With the use of our technology, this sludge can be used as fuel. At the same time, the resulting ash can be used by adding it to the lower layers of concrete paving."
This same technology can be used for generating power from rice husk, 20 percent of which comprises of sand. Another source of power is waste that is generated when palm oil is extracted from palm trees.
All rights reserved by Rossiyskaya Gazeta.