Russian pharma companies eye international expansion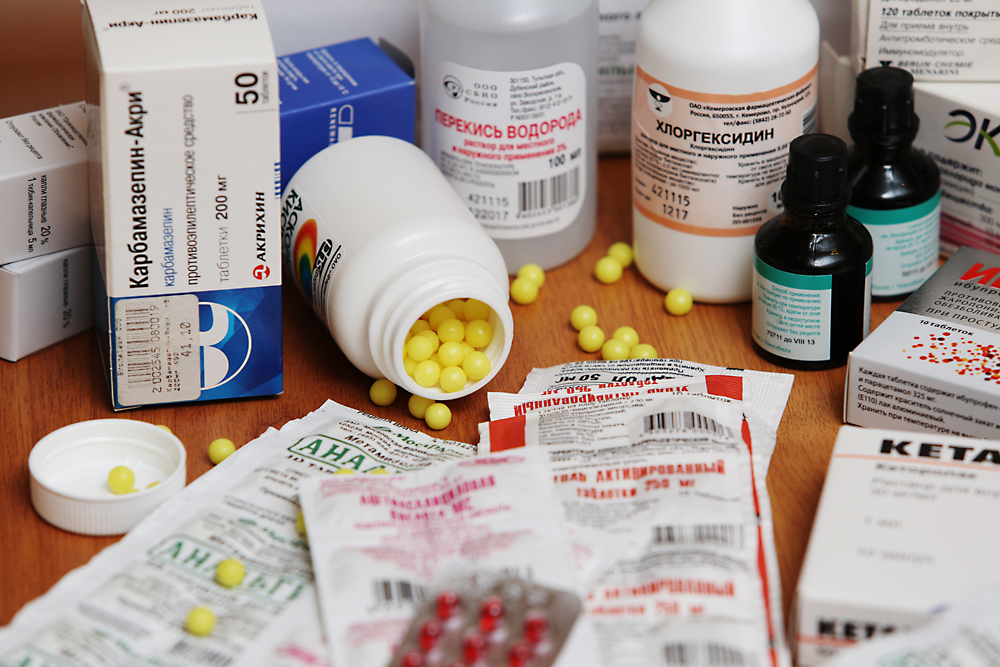 The share of Russian drugs on the domestic pharmaceutical market has risen from 24 to 28.5%.
Anton Vergun/TASS
Russian pharmaceutical companies are trying to attract foreign consumers with their high quality and reasonably-priced medicines. But first they need to strengthen their positions on the domestic market, which is still dominated by foreign companies.
Over the past 18 months the share of Russian drugs on the domestic pharmaceutical market has risen from 24 to 28.5 percent, said Russian Industry and Trade Minister, Denis Manturov, at a session of the government's import substitution commission on July 8. At the same time, imports of foreign-made medicines dropped by 8.5 percent.
"A considerable volume of imports remains for 526 drugs, but over the next two years more than half of them will be replaced by Russian-made equivalents," Manturov said.
Ekaterina Mamonova, managing director of the Novosibirsk medical science park, points out that Russian consumers still prefer foreign medicines. She says this is due to the fact that consumers are not aware of the quality of domestically-manufactured medicines.
"It is important not only to make a good-quality product but also to tell consumers that it is effective,'' Mamonova said at a Technoprom forum in Novosibirsk. ``Many Russian companies do not realize that the cost of introducing and promoting innovative products is often higher than the cost of making them.''
Unite to win
Yevgeny Zhuravlev, an official at the Urals biomedical cluster, is convinced that Russian innovative drugs can dominate their market with the help of professional associations.
"Russian scientists do not have experience taking an idea all the way to the market; yet they achieve excellent research results that then spend years gathering dust on university library shelves," Zhuravlev said. It was on one such "dusty shelf" that his cluster discovered an antivirus drug, Triazavirin, which is effective against 15 types of flu. The drug has already been put into production.
His cluster unites 30 participants, including 12 enterprises that manufacture medicines and medical equipment. One of its main innovations has been directed at helping people suffering from kidney diseases. "Thanks to our work, the Urals and several other regions have already managed to end their dependence on foreign suppliers of equipment and medicines for dialysis," Zhuravlev added.
A medical cluster is now being established in Skolkovo, Russia's equivalent of Silicon Valley. The state budget allocated $1.5 million to launch this project, which will include a number of medical centers, infrastructure facilities, as well as premises for offices and private research companies.
Expand abroad
Once plans to replace foreign medicines on the domestic market have been accomplished, Russian pharmaceutical manufacturers intend to expand abroad.
"We have plans for the next 20 to 30 years,'' Mamonova said about the Novosibirsk medical science park, which opened in 2010. ``The first phase is import substitution, and we intend to develop this through 2018. After that we shall move to the international market."
The science park identified three priority areas which have potential for success. These are traumatology, neurosurgery, and rehabilitation medicine. "Our main focus is on developing tissue-engineered constructs for replacing various defects," Mamonova told RBTH.
For instance, the science park is developing technology for modeling fragments of cranial bones that could be made on a 3D printer. "We are considering different markets, and we are working more with Europe in terms of technology exchange," Mamonova explained.
Meanwhile, the Urals biomedical cluster is planning an international launch for an antivirus medication, Dezitol, which can be used on any surface and has no equivalents in the world. Once applied, after drying it forms a thin polymer antimicrobial film.
"Our priority is southeast Asian countries because they are more opened to medicines made in Russia," Zhuravlev told RBTH. Dezitol destroys HIV, various germs, and pathogenic fungi that are already on the surface and those that appear there after treatment. Investment into the development of this medicine totals $5 million.
Subscribe to get the hand picked best stories every week
All rights reserved by Rossiyskaya Gazeta.