Tinder for microloans: How to share lending risk with strangers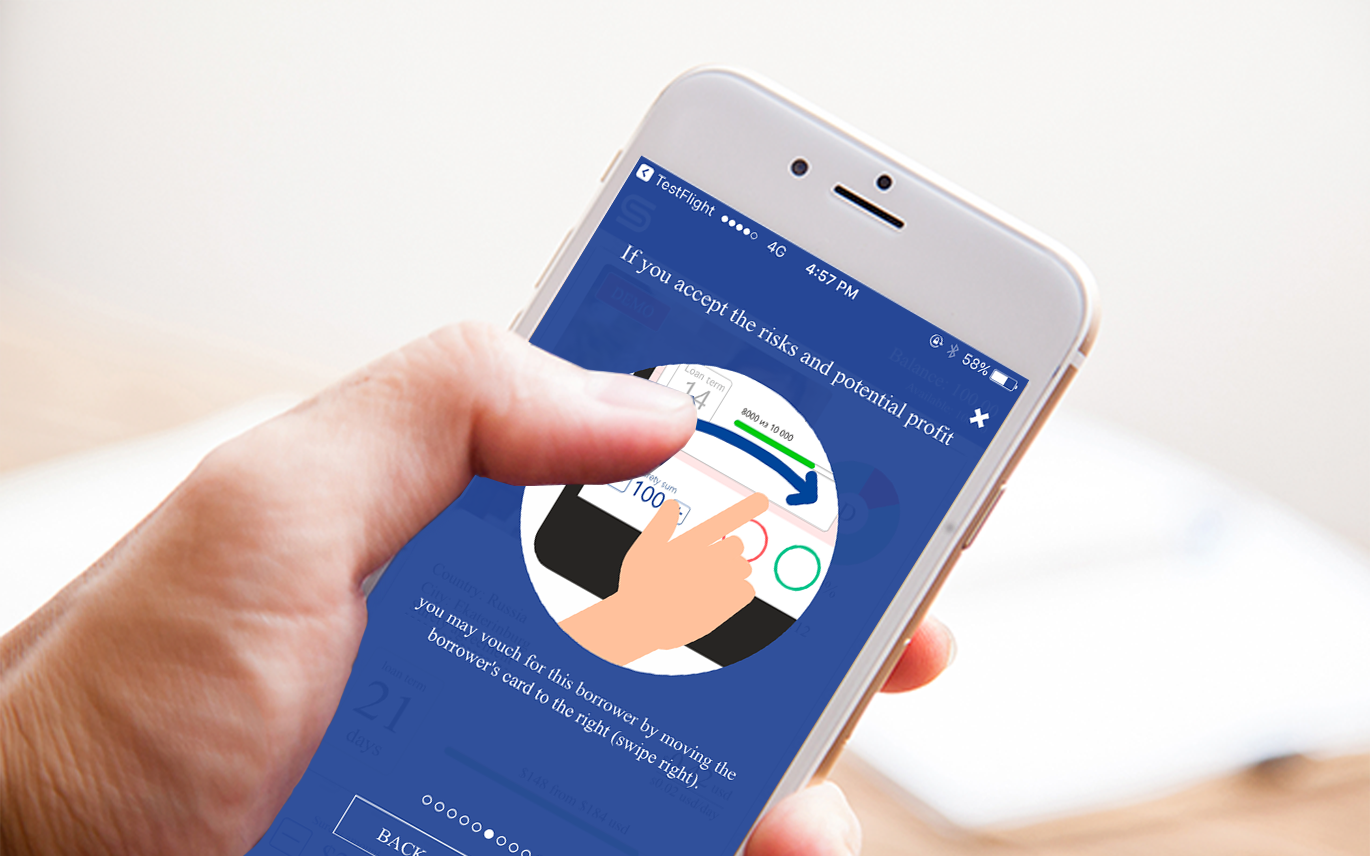 Suretly is geared exclusively to short-term loans of up to one month; in other words, those with the highest interest.
Press photo
The Russian startup Suretly is pioneering the concept of crowdvouching, which is a scheme that involves individuals vouching for strangers. Loans are issued by microfinance organizations, and users who "like" a potential borrower can either earn or lose money depending on whether those for whom they vouched return the loan.
A stranger's photograph appears on your smartphone screen, and you decide whether to give him or her a loan or not. The money is not yours, but instead is provided by microfinance organizations. That's the main difference from traditional American P2P (peer-to-peer) lending, and with Suretly you can earn or lose depending on whether the recipient of your largesse proves to be a reliable borrower or not.
A decision is made just like on Tinder: right swipe for Yes, and left swipe for No. The process is referred to as crowdvouching, a term coined by Eugene Lobachev, Suretly's founder. The exchange itself, developed by Russian specialists, was launched in the U.S. in April.
Suretly is geared exclusively to short-term loans of up to one month; in other words, those with the highest interest. Lobachev said the scheme will help people with poor credit rating to obtain money, and microfinance organizations will be able to lower interest rates and shake the public perception of them as "parasites feeding off American society."
Loans for the nice-looking?
Decisions are not only made on the basis of whether you like the borrower's appearance, but also according to a form outlining their financial history.
The money itself is loaned by the microfinance organization that the borrower applies to, but only if they attract enough sureties to cover the whole amount, plus interest. Users share the risks, and depending on whether the individual returns the money or not, they can lose or earn from $1 to $10.
"We've seen that the default rate on Suretly is 2-3 percent lower than the market average," said Lobachev. "When an individual takes out a microloan and feels responsibility towards a company, that's one thing. When 10-20 people have vouched for him, the responsibility becomes personal."
On the app, borrowers are divided into seven categories from A to G depending on their trustworthiness. The higher the risk that the loan won't be repaid, the higher the price of its surety. The maximum commission is $1.5.
"Our audience is made of gamblers, people who like high-risk investments," Lobachev said. "Our most popular product is surety for a borrower involving average risk and average returns, and in second place is surety for the riskiest borrower with the highest return."
Microfinance revolution
The name of the platform is an amalgamation of the words "surety" and "surely." The company was launched in Russia in summer 2016, and the team is now based in New York, Moscow and Novosibirsk. So far, only a demo version of the product is available in the U.S.
"Suretly offers a simple concept," said Ekaterina Dorozhkina, co-founder and managing partner at Starta Accelerator in New York, in whose program the startup is participating. "It was low-hanging fruit - just like Uber, for instance. In my view, it will develop buoyantly in Latin America, Africa and Asia."
Lobachev said that Suretly enables a borrower with any credit history to obtain money at a lower interest rate than if they had applied independently to a microfinance organization. It will also allow borrowers to improve a poor credit history, making it possible for them to return to bank products with low rates in the future.
For the guarantor, it's an alternative investment vehicle. For creditors, it's a chance to increase lending volumes and spare their loan recovery department the extra work, because they're guaranteed to get their money back.
Suretly is available via Google Play and iOS. There is a tutorial demo mode, and balances can be topped up at the press of a button.
If using any of Russia Beyond's content, partly or in full, always provide an active hyperlink to the original material.