Russian IT exports grow rapidly as tech startups go global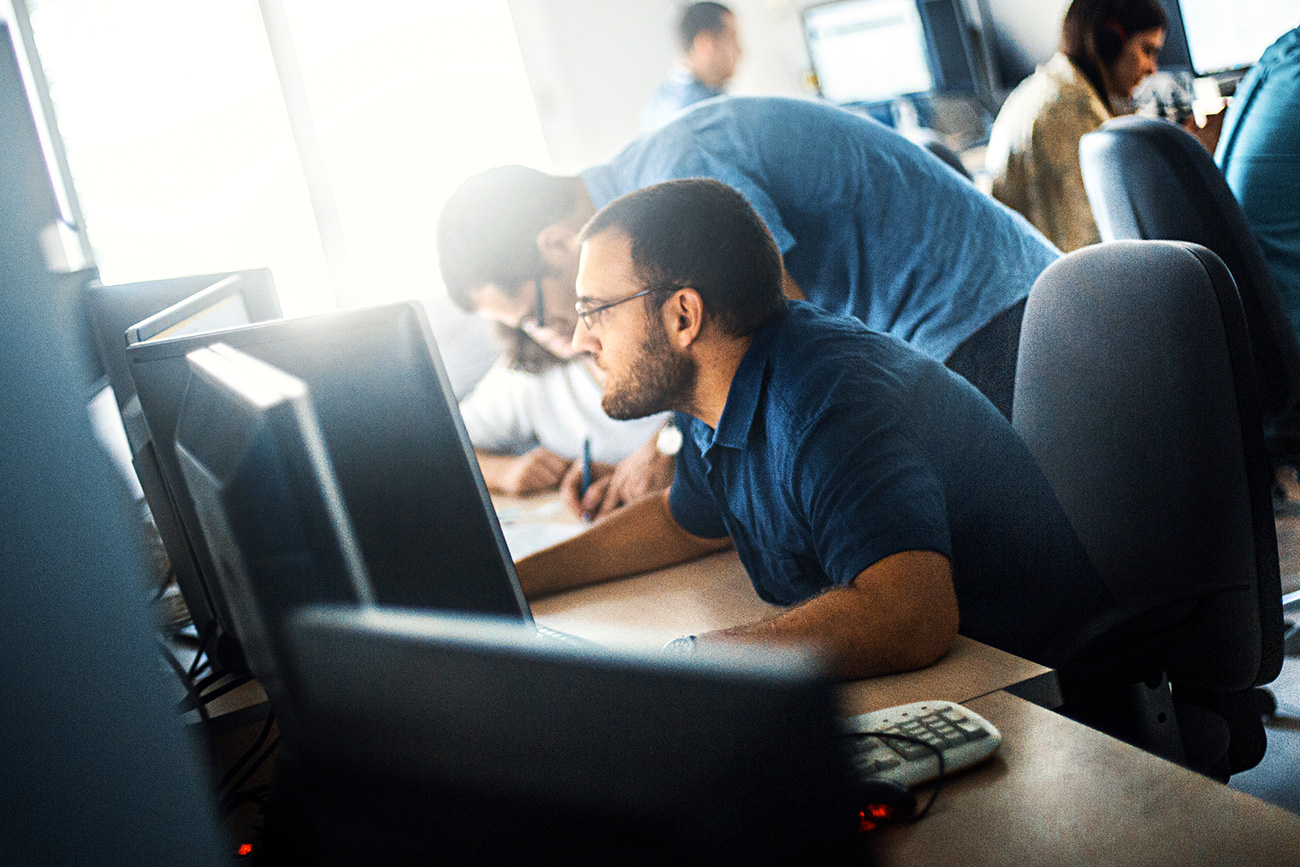 The main share of Russian software exports goes to the U.S., but Germany, Scandinavia and Central and Eastern Europe are also important markets. Photo: Software developers at work.
Getty Images
The volume of Russia's IT exports exceeded $7 billion in 2016, almost three times more than eight years ago. Russian tech startups are targeting Asia and Latin America, gradually leaving established markets, such as the U.S. and Europe.
While a student at Moscow State University, Andrei Sviridenko created artificial intelligence software, and when he went to Heidelberg, Germany as an exchange student he started looking for buyers. Riding his bike to visit small local computer companies he eventually found GTS GmbH, which liked his software solution and bought a license for it. That's how Sviridenko launched Spirit DSP.
Today, Spirit DSP is a global leader in the production of devices for voice and video communications in IP networks. They are used in more than 60 percent of smartphones in the world, including Apple's iPhone and Samsung's Galaxy. Among other clients are Skype and Viber, as well as the largest telecommunication operators in the world - AT&T, China Mobile and Korea Telecom.
Spirit is just one example of Russia's many successful IT companies that have robust exports. According to the non-profit partnership, Russoft, in the past seven years Russian software exports increased threefold, from $2.7 billion in 2009 to $7.6 billion in 2016. In comparison, the volume of Russia's most profitable export, weapons, is estimated at about $15 billion annually.
Where do Russian IT developers export?
The main share of Russian software exports goes to the U.S., but Germany, Scandinavia and Central and Eastern Europe are also important markets. Demand for Russian IT solutions is growing in Asia, primarily China, but also in South America, Australia and the Middle East.International consumers are interested in Russian software products in the field of information security, mobile applications, navigation, and document management systems. Software is also developed to meet the specific needs of individual companies.
IT stars and modest leaders
Russoft estimates that the number of Russian IT exporters is in the hundreds, and the largest are Kaspersky Lab, Luxoft, Parallels, ABBYY, Acronis, CBOSS, Cognitive Technologies, Prognos, SKB Kontur, Veeam and Spirit.Mid-level players include DataArt, Diasoft, Dr. Web, EPAM Systems, Prognoz, Positive Technologies and RTSoft. Finally, among small Russian software exporters are Arcadia, Ascon, Auriga, Galactica, Group-IB, Info Watch, Naumen, Paragon and Kibernika.
Weak ruble
Parallels' vice president, Nikolai Dobrovolsky, said the company's solutions are exported to more than 60 countries, and 45 percent go to North America, 40 percent to the EU, and 10 percent to Asia (mainly Japan). Almost five million people in the world use Parallels' Desktop solution for the Mac.
"The weakening of the ruble in 2014 gave Russian software companies a valuable advantage in international markets," said Dobrovolsky. "Creating software in Russia today is profitable. In terms of prices, we compete with India and China, and our programmers have always been stronger. In today's world the country of origin is not important for the user. A simple, comprehensible and user-friendly software is much more important."
Kibernika, which exports IT security solutions under the Cybrus brand, is also expanding sales. "We are in Malaysia, Vietnam and Thailand," said Andrei Oschepkov, Kibernika's general director. "The Asian market has a lot of potential, and we plan to develop this direction in the upcoming years."
Hackers and sanctions: both major obstacles
Officials at Russian companies believe the high professional level of IT specialists in Russia helps them create innovative products that the global market needs. Geopolitical tensions, however, are obstacles for the development of Russian software exports.
"The country's unfavorable image is an impediment for Russian IT exports," said Maxim Mikhalev, director of business development at CUSTIS. "Russian hacker attacks, statements made by politicians, sanctions – all this makes us reconsider not only the traditional markets for Russian export such as the U.S. and Europe, but also countries in Asia, Latin America and other regions. There, people are more loyal to Russian companies."
ABBYY, the developer of speech-recognition technology, opened an office in Dubai and plans to grow exports to the Middle East. Info Watch, which specializes in security systems, began penetrating markets in Latin America, such as Colombia and Peru. The Terrasoft group, which specializes in the development of marketing management platforms, opened representative offices in Singapore and Australia.
Russian IT exporters receive state support in the form of fiscal and insurance deductions, and the Russian Communications Ministry announced there would be additional forms of support such as subsidies for expenses in the development of system software, preferential debt financing for IT companies, and co-financing of partial expenses for product promotion that includes the organization of exhibitions, conferences and other events.
If using any of Russia Beyond's content, partly or in full, always provide an active hyperlink to the original material.