Analgesic 'road map' gives hope for better palliative care in Russia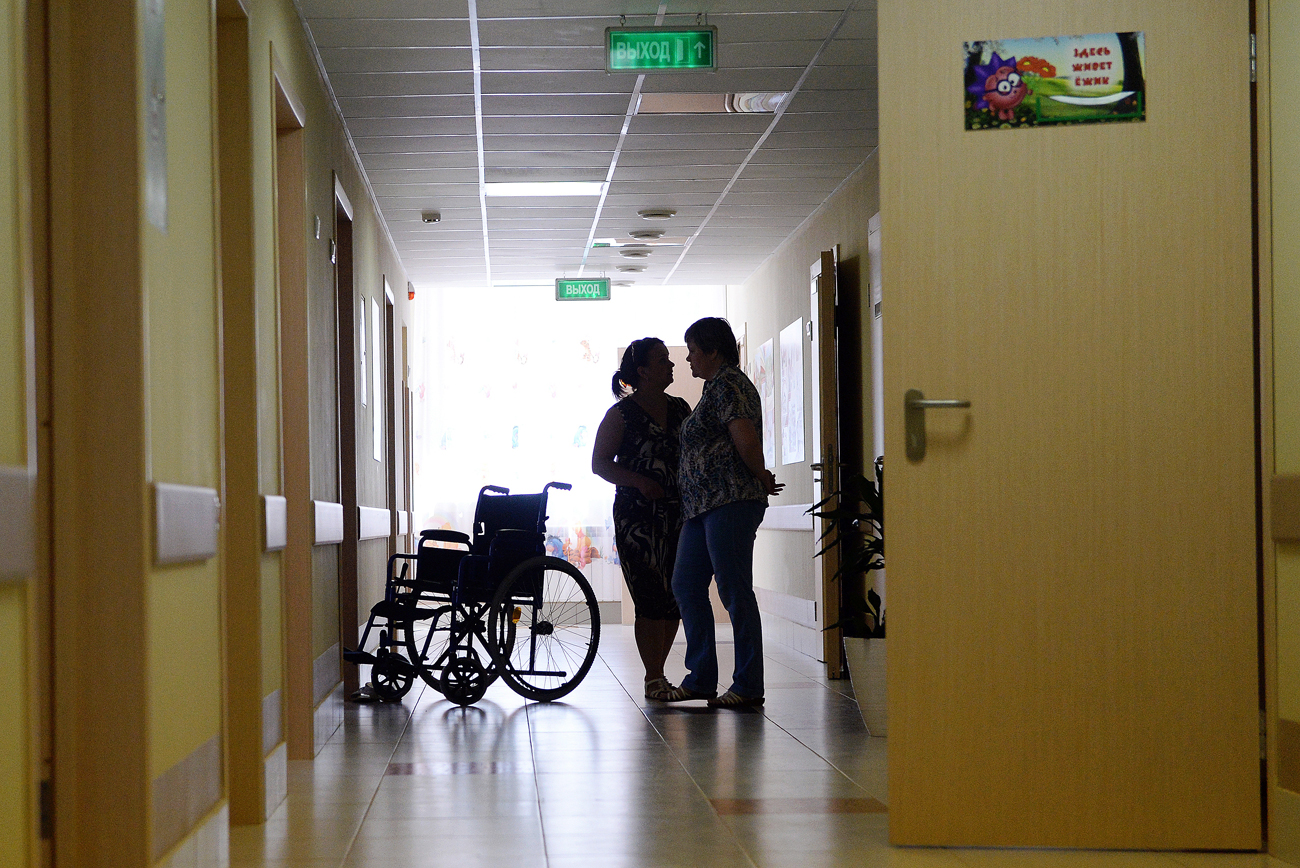 Alexander Tkachenko: "Charity organizations can be the government's assistants, but they can't replace the government." Photo: Visitors in a hallway in Tatarstan's first hospice for children in Kazan, which is to become the second in-patient children's hospice in Russia.
Maxim Bogodvid/RIA Novosti
The Russian government has adopted a "road map" for increasing accessibility to drugs and psychotropic substances for providing patients with painkillers. Experts believe that this is a strategically important step for constructing a system of palliative care in Russia.
A children's hospice that opened in St. Petersburg in 2010 has become the first institution in Russia to provide care for terminally ill (palliative) children.
"Fifteen years ago we visited a girl named Nastya. She was heavily ill but was very courageous," said the hospice's general director, archpriest Alexander Tkachenko. "Once she told us what a cozy hospice should be like. Everything we did in the following years was to realize her desire."
The hospice has the feel of a big comfortable house. It has learning facilities and psychotherapeutic rooms where volunteers work with the children. In the basement there is a pool with a hydro massage. In general, children with serious illnesses are not allowed to swim, explained Tkachenko.
"I wanted to give them this possibility here. People disagreed with me, telling me that children come to a hospice to die, not swim in a pool," he said. "I argued: In a hospice children must live and feel the joy of living.
"Then I asked if it would be possible to build a church in the hospice. The official said that a church would be useful. I then said that I would need a bath for baptism. In the hospice's jargon this pool is called 'a tub for preserving holy water with hydro massage'."
Charity organizations cannot replace the government
St. Petersburg invested about 80 million rubles ($1.27 million) in the hospice, which has become the most expensive institution in Russia, in terms of resources spent on one bed. Currently there are 23 beds in the institution. The hospice's outcall service takes care of another 300 children in St. Petersburg.
An annual 89 million rubles ($1.4 million) is needed to maintain the hospice. The government gives 70 million rubles ($1.11 million) and the rest comes from charity organizations. Tkachenko is convinced that palliative care cannot be provided only by charity funds: "Charity organizations can be the government's assistants, but they can't replace the government," he said.
In Russia there are about 200,000 children with palliative diagnoses but only a few hospices. For this reason in the last two years palliative departments have been opening in association with children's hospitals. Perhaps they are not as cozy and warm as the children's hospice in St. Petersburg, but in general they can substitute a hospice.
It is important that in palliative departments, unlike most reanimation centers, parents can be with their children round the clock. But because there is an insufficient number of hospices many palliative children are still moved to the reanimation centers in normal hospitals, in which visiting time is limited and in some cases relatives are not allowed.
"Palliative children may spend months, even years in reanimation and parents are allowed to see them for only half an hour. The children die in loneliness and the parents can't forgive themselves afterward," said Yelena Martyanova, a specialist from the Vera Hospice Charity Foundation.
The new 'road map'
Recently the Russian government adopted a plan to "increase accessibility to drugs and psychotropic substances for medical purposes," which is called an analgesic "road map." The plan should partially solve the problems of palliative patients by increasing the accessibility and the quality of analgesics, expanding the list of analgesic drugs and simplifying the prescription procedure.
"Expanding the list of the registered analgesic drugs in Russia is an important step but if doctors don't prescribe them, it will be useless," explained Nyuta Federmesser, president of the Vera Hospice Charity Foundation. "That is why the 'road map,' together with increasing the number of accessible analgesic drugs, also mentions the need to train doctors."
Killing pain is the basis for developing palliative assistance. But in Russia many doctors still fear prescribing opioid analgesics and many do not know how to use such drugs for palliative patients.
Federmesser notes that in the West many painful conditions found in palliative patients are treated with higher dosages of morphine than in Russia. In Russia morphine is prescribed in small dosages or is not prescribed at all. Often parents of dying children are told: "Why do you want to get him hooked on morphine? He'll become a drug addict." The parents listen to the doctor and the child suffers in pain.
Moreover, there are hardly any palliative doctors in Russia: "We don't even have such a professional category," said Federmesser. "The 'road map' indicates that in 2017 the category will appear, which means that educational institutions will start teaching palliative medicine."
About palliative care
According to the World Palliative Care Alliance, 60 percent of the children who die in developed and developing countries need long treatment before their death. Last year almost 1.9 million people died in Russia, more than half of whom needed palliative assistance. According to the Russian Statistics Agency, in 2015 only 350,000 people received palliative assistance in Russia, meaning that about 800,000 people were left without the necessary treatment.
First published in Russian in Kommersant. Authors: Olga Allenova, Valeria Mishina, Maria Karpenko.
Subscribe to get the hand picked best stories every week
All rights reserved by Rossiyskaya Gazeta.