Rediscovering joys of Russian education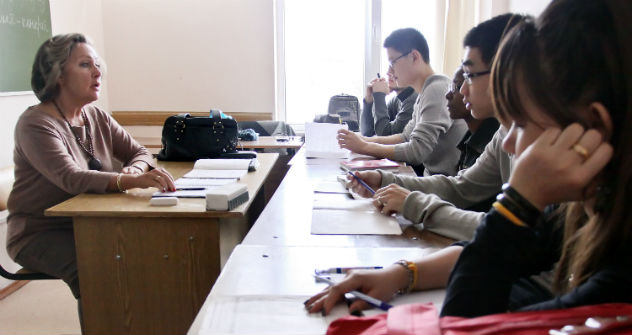 During their first year at universities, all foreign students study Russian, even if their course is taught in English. Source: ITAR-TASS
To attract more Indian students, Russian universities need to plug the information gap and offer courses in English.
The so-called American dream has lured thousands of Indian students, and Russia may not be such a hot education destination as it used to be in the Soviet times due to a host of reasons. In those good old days, Indian students made up a large chunk of foreign students studying at renowned universities like Moscow State University, Moscow Power Engineering Institute and People's Friendship University. The numbers of young Indian footfalls in Russian universities may have dwindled, but all is not lost. There is a renewed interest in Russia, with more Indians rediscovering the strengths of Russian universities in engineering, medicine and natural sciences. Russia's world-class business schools are an added attraction for well-heeled Indian students. If those wishing to study abroad are not convinced, they should listen to old-timers who studied in Soviet universities and are now well established in their chosen professions.
Numbers
5,000
Indians study in 50 Russian universities presently. The most popular specialisations for them are medicine, engineering, natural sciences and MBA.
$7,000
is an average annual tuition fee at Russian People's Friendship University compared to $20,000 per annum at Cambridge, Great Britain.
is an average living cost per month for a foreign student in Moscow including food, mobile phone bills, transportation and daily expenses.
Yogender Nagpal, president of Hindustani Samaj (the oldest organisation of Indian diaspora), who studied philology at the Moscow State University (MSU) in late 1960s, is all praise for the Soviet education system and admires it for in-depth studies and for preparing him for a career in the increasingly lucrative area of translation. Nagpal says he came to study to Russia because of his interest in Russian language. "My education at MSU was a good foundation for my future career," he recalls proudly. Getting a job was not difficult. A graduation degree from the MSU certainly helped. After obtaining his diploma, he immediately got a job at "Progress", a large publishing house, as a translator where he worked for the next 18 years.


Recalling his student years, Nagpal says that Indian students felt at home in the USSR. "In those days, we received a monthly stipend of 90 rubles, almost as much as an engineer's salary (120 rubles), and we enjoyed a comfortable life," he says with a smile.


A born optimist, Nagpal believes that Russia could again be an attractive student destination. In some courses such as engineering, physics and biology, Russian universities have a lot to offer. In fact, young Indians who currently study in Russia usually stand a better chance of finding a job in India due to their knowledge of Russian. He gives the example of his nephew who graduated from Moscow Power Engineering Institute and found a good job in India.
| | | |
| --- | --- | --- |
| | | |
| Chakravarti Pilla, PFU | Rameshwar Singh, PFU | Yogender Nagpal, MSU |
Rameshwar Singh, head of Indo-Russian friendship society DISHA, who obtained his degree in philology at People's Friendship University (PFU) in the 1970s, is, however, a little less optimistic. He says: "In my student years, the Soviet education was reputed, and the staff working at universities, especially PFU, supported foreigners and helped us to adapt. Now, it's different." According to Singh, foreign students had generous monthly stipends, that made staying away from work possible during their studies and they could concentrate on education. Nowadays, only students from well-to-do Indian families can send their children to study in Russia whereas in the Soviet times, more people could afford it.


"The contrast could not be more striking," Singh rues. "Compared to 50 or 60 Indian students who were at PFU in my time, there are just a handful now." But still Singh thinks that Russia has a potential to attract more Indian students if there is more information available for Indians wishing to study in Russia. Besides paucity of information, language is another critical barrier. In most Russian universities, there are only Russian-speaking courses, and this can put off young Indians who don't wish to have the additional burden of having to study in a foreign language, he points out. In cases where English courses are introduced, there are visible results, he says. For example, in the Russian city of Tver, which is not far from Moscow, implementing English-speaking medical course at universities led to a perceptible rise in the number of Indian students.


Chakravarti Pilla aged thirty one who has majored in medicine in PFU thinks that critical voices slamming Russian higher education to-date are overreacting. He doesn't believe that the Russian education has lost its appeal for Indian students but points out that Indians of his age prefer to take up medicine and engineering neglecting other specialisations such as law or human arts. Also, he says it's not as easy to find a job in Russia after the studies as it used to be although it depends mostly on a specialisation. As to the cost of education, Pilla assesses Russian education as affordable. True, it's no longer free for foreigners, but it is still far less expensive than, for example, in the UK or the US. A year of studies at a good Russian university costs around $7,000 per year whereas foreigners studying at the same level in a British university have to pay three times more, about $20,000.


Clearly, there is enormous potential, but if Russian universities are serious about attracting more Indian students, they have to step up their outreach in these marketing-driven times and plug the information gap. Efforts are on to revive interest in Russian education. Last year, the Russian higher education exposition-fair was held in major Indian cities like New Delhi, Chennai and Ahmedabad. More such initiatives are needed, that's the point Nagpal, Singh and Pilla agree on.
All rights reserved by Rossiyskaya Gazeta.