Orthodox Christians celebrate Epiphany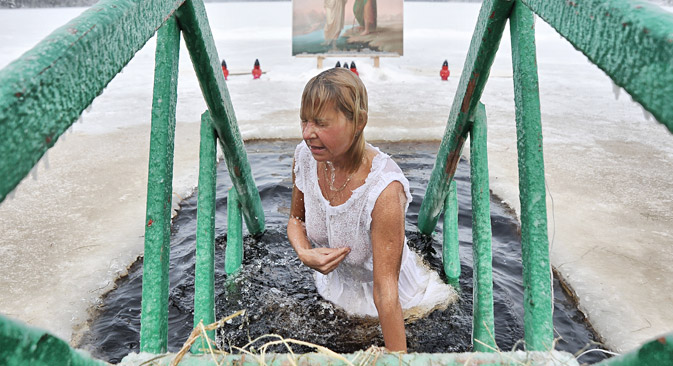 "Plunging in an ice-hole is not required, and it can never wash our sins," says Alexander, an orthodox priest. Source: ITAR-TASS.
Orthodox believers are due to celebrate Epiphany by confessing their sins and going ice-dipping - a sure buzz of adrenaline for one of Russia's most iconic traditions.
Plunging into icy water is not scary at all: when it is -4 degrees Fahrenheit outside and the water temperature is 35 degrees above freezing, bathers actually feel as if they are dipping into warm milk. The important thing is for divers to rub themselves with a towel once they get out of the hole in the ice. At least, this is what those who come to take a dip in ice-holes on Epiphany night say.
The Epiphany celebration in Kamchatka Source: RBTH
Orthodox Christians celebrate Epiphany on the night of Jan. 18. Celebrations begin with evening services, after which priests bless the waters in lakes and ponds. The ritual makes the water sacred, and people fill containers and take them home to bathe in, drink or simply keep as a shrine. There is a popular belief that holy water has unique properties: for instance, it can stay in a closed container for several years without going bad.
Plunging into icy water is one of the most spectacular and popular Orthodox traditions. There is sometimes a special tub in a church or chapel, but tradition demands an ice-hole be carved in the shape of a cross on a frozen lake or river. This year, more than 40 ice-holes will be prepared in Moscow. Each site will have sufficient lighting, as well as rescue teams and ambulances on duty. Also, the sites will have heated tents for bathers to change in after they have plunged into the ice-cold waters.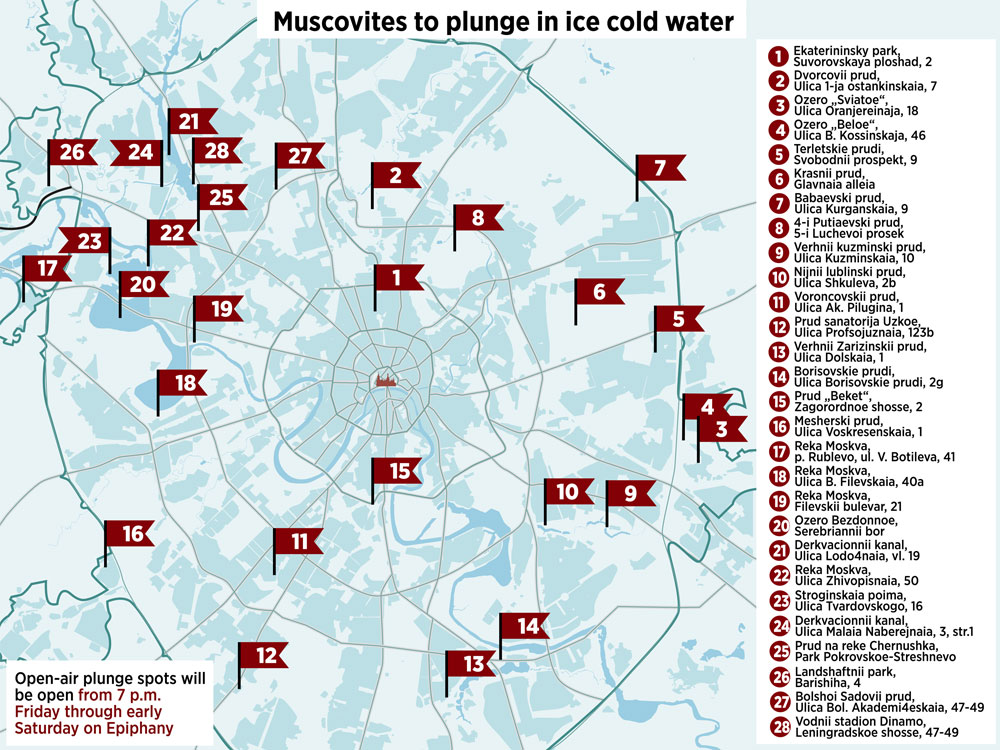 Click to view the map where Muscovities will plunge in ice cold water
As a rule, the cold gets especially bitter during these days, as if to test the faith of Orthodox Christians. Orthodox believers even refer to what they call "Epiphany Frosts." Still, whatever the temperature on Epiphany night, one can always see hordes of people willing to take a dip into an ice-hole; participants may even have to wait in line for an hour during "rush hour."
Some people wait in only their swimsuits and towels – change the background to a sunny seaside and this could just as well be a line for ice-cream in the summer. After freezing in long lines, people still enjoy plunging in ice-holes because the water is much warmer than the air: the 20-degree difference can really be felt during these moments.
The extreme nature of the celebration attracts not only believers who wish to complete a Christian ceremony of utmost importance, but also those who just wish to challenge themselves. Furthermore, the sacred ritual is sometimes accompanied by drinking alcohol, which runs counter to the fundamental idea of the rite.
"I dipped two years ago: it was around -25, and I had to wait for half an hour, wearing only a towel," says Ivan, a student from Moscow. "I'm not particularly religious; I wear a cross, but I don't go to church. I wanted to test myself. I love everything than makes your heart run faster."
"Washing in a laver is of secondary importance," says Alexander, an Orthodox priest. "The main thing for a believer is to attend services, confess sins and take communion. Plunging in an ice-hole is not required, and it can never wash our sins. Only a priest can grant absolution. The extreme image of the celebration is just the work of the media."
All rights reserved by Rossiyskaya Gazeta.