Russian Post Office: Why so slow?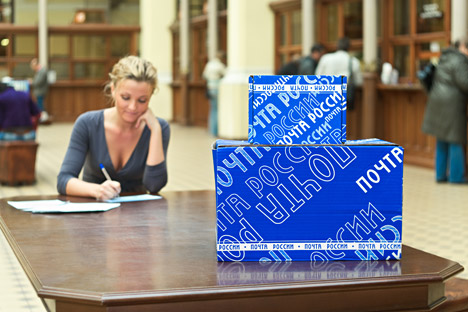 The Russian Post is a product of the Soviet system of public services. Source: Lori / Legion Media.
The Russian Post takes weeks or months to deliver parcels. In some cases, this is the fault of customs, but the state-owned company itself does not employ enough people. Those it does employ receive miserable wages and always struggle to come to grips with the latest technology.
"All is not lost" is one of the milder slogans suggested by wisecracking customers who use the services of the Russian Post. Russia's mail monopoly is famous not only for struggling to deliver parcels and letters, but also for preserving Soviet traditions of customer service.
The Russian Post is a product of the Soviet system of public services. The company is essentially the same as ever, having seen minimal evolution. The lines of people at mail offices, the undue delays, and the less than courteous staff are all still there; and there they will remain, until alternatives appear and the system becomes more competitive.
Besides the standard service offered by the Russian Post, there is the express courier EMS (Express Mail Service). This is a global courier network that works with the national mail operators of different countries. However, in Russia, EMS encounters the same problems as the main mail office. Despite the fact that the status of each parcel sent via EMS can be checked online, delays are still unacceptably common.
Alexandra was waiting for a package from Moscow. EMS said the journey to her home in Moscow Region would take two days. "After two weeks, I got worried," said Alexandra.
"I checked the status of the parcel online. The system showed that it had been dispatched from Moscow, but had not arrived in my town. It was stuck somewhere 'en route.' I called the EMS hotline, and they told me to write the department for lost correspondence, which would try to sort things out within a month. The parcel contained sandals and summer clothes, but summer was already coming to an end," she said.
"I decided to go to the local mail office to get some reassurance that the matter was in hand. Having braved the huge line of customers, I found out that my parcel had been there all along: the branch simply didn't have the staff to take it to my apartment. Moreover, there was only one employee, who just didn't have time to keep the computer records on incoming parcels up to date," Alexandra added.
Staffing is a major problem for the Russian Post. Half of all complaints the company receives are about the rudeness, negligence, incompetence, or simple lack of staff. According to the company press office, the average wage is about €300-400 ($400-535) a month; but the real figure is much lower. Accordingly, young professionals do not seek employment there. The bulk of mail employees are women approaching retirement age who struggle with new technology.
"I worked as a mailwoman for two years, serving an area of 60 apartment blocks. It is incredibly hard work for just 150 euros a month," said Natalia, a pensioner. "I often had to throw away promotional leaflets so as to cope with the main correspondence. So did my colleagues, but it gnawed at my conscience. So, in the end, I quit."
Customers of online foreign retailers face constant delays. For example, EMS can take up to two and a half months to deliver a parcel from Britain.
For the sake of objectivity, it should be stated that not all international delays are the fault of the mail service: cargo can sit indefinitely at Russian customs. Since 2011, courier parcels have no longer been checked preferentially; now they have to wait their turn with all the other goods. This change in Russian customs practice has exacerbated an already difficult situation.
"We know about the problems with delivery and understand that there is room for improvement. The whole system needs upgrading," said Alexander Timofeev, director of production processes at the Russian Post.
"Unfortunately, our budget is limited and the question is always whether to modernize or raise wages. If the public has suggestions on how to improve our performance, we are happy to hear them. We value feedback very much."
The New Year's holiday period is a killer. Delivery times increase several times over. Those in the know never send mail in the run-up to New Year's, because it is bound to gather dust somewhere along the way. According to official data, the Russian Post loses less than 1 percent of all correspondence per year. As for the percentage of mail arriving late, the statistics are silent.
Improvements are not expected any time soon. In December 2012, customs tightened control over small packets sent by mail. Whereas before a batch of mail could be processed in one go, a separate form is now required for each individual item. This greatly increased the time required to process a single parcel. Small packets are mainly shipped by foreign online stores, and the traffic greatly increases over the holidays.
Customs officials, however, say that such packages are often used to import drugs and weapons, so control has to be tight. The result is a higher workload, just when performance has nosedived. How long will people have to wait for their goods? Your guess is as good as mine.
All rights reserved by Rossiyskaya Gazeta.