Bolshoi director acid attack has terrifying implications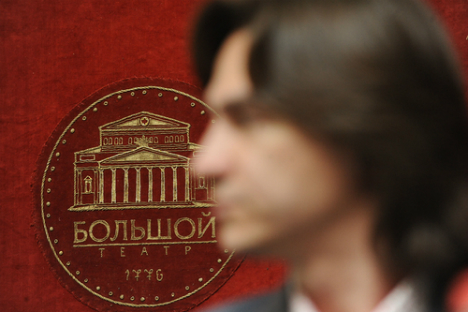 Sergei Filin, the Artistic Director of the Bolshoi Ballet. Source: ITAR-TASS
The attack is also a message to everyone in positions of power at the Bolshoi. It's meant to terrorize.
By now you've probably heard about the acid attack on the Artistic Director of the Bolshoi Ballet Sergei Filin. While everyone appears to be sure that this horrendous incident is indicative of the latest round of power struggles at Russia's most famous theatre, it would be wise to look at the crime in a wider context.
It all comes down to how disputes are solved, you see. A fairly…pliant criminal justice system means that rivals, business rivals in particular, can easily be "put away" for any number of years. And considering the phenomenon of judicial solidarity, few verdicts are overturned.
But physical attacks tend to be cheaper and easier. And in a city in constant flux, with little sense of community, they are a regular occurrence at the lower levels of society. We're only talking about the Filin incident because it involves, well, Filin – and because it involves acid. This crime is morbid, sadistic and hateful – not your regular footnote in an ongoing turf war. Filin's enemies didn't just want him out of the way – they wanted to break him.
The attack is also a message to everyone in positions of power at the Bolshoi. It's meant to terrorize.
Filin, who will undergo several rounds of reconstructive surgery, is staying positive. It can only be hoped that he will able to return to his job.
In the Moscow artistic community there is certainly a sense of the line being crossed. The acid attack on Filin casts the high-profile struggle over the Gogol Centre (formerly the Gogol Theatre) in a new light, for example. Ever since hotshot Kirill Serebrennikov was appointed the new artistic director of the place, there have been conflicts, rallies, and yes, a violent incident involving one of Serebrennikov's right-hand men. Someone waited outside in the dark for Alexei Malobrodsky, director of the newly revamped centre, and proceeded to punch him in the face and knock him to the ground. Though critics of Serebrennikov attempted to write this off as a simple mugging, it should be noted that Malobrodsky's briefcase and wallet were left untouched.
A similar conflict at the Centre for Playwrights and Directors has not resulted in any violence, thankfully – but there is the general sense that if it can happen at the Bolshoi, it can happen anywhere. It would be unwise to believe that just because the stakes are higher at the Bolshoi, other theatre managers shouldn't worry too much. Many of the people waging wars at Moscow's cultural institutions are desperately seeking attention – and the public outcry at the attack on Filin may inspire them. The situation is further complicated by initiatives that aim to decrease the amount of "ballast" at Moscow's municipal theatres – specifically by making it easier to fire actors. Not everyone is pleased with the new system, and tensions continue to boil over, while some actors are beginning to feel as though they have nothing left to lose.
The acid attack should not be written off as the action of a single, power-hungry hysteric – a dancer passed over for a role, perhaps. There has been a pattern of intimidation and smear campaigns at the Bolshoi Theater. Consider, for a moment, the fact that once upon a time Gennady Yanin, the man who was the likeliest candidate for the seat of the Bolshoi Ballet artistic director, was ousted after pornographic pictures of him were leaked online. Yanin continues to dance at the Bolshoi, but he will likely never get to make decisions and assign roles – and this is what it's really all about.
Filin certainly stepped into a hornets' nest, and he reported an escalating campaign of threats against him. His e-mail was hacked and his tires were slashed. Whoever went after him may have ultimately been aiming to topple Anatoly Iksanov, the Bolshoi's general director, because an atmosphere of fear and chaos always makes the top brass look bad.
Ultimately, the attack on Filin should also be viewed in a greater context. Settling scores via violence has become a daily norm, and has been for some time. Media hype won't solve the problem – but solidarity, that old chestnut, might.
First published in RIA Novosti.
All rights reserved by Rossiyskaya Gazeta.