Americans challenge adoption ban in European Court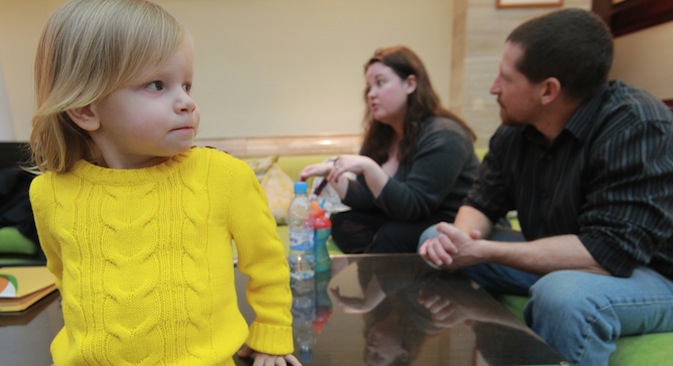 American family receive documents for adoption. Whitney Olson and Dack Little with Russian girl Alyona adopted by them. Source: RIA Novosti / Vitaly Belousov
Four American families appeal to the European Court of Human Rights in the hopes of having the law banning the adoption of Russian children by Americans overturned.
A complaint has been filed with the European Court of Human Rights (ECHR) on behalf of four American families affected by the "anti-Magnitsky law." Lawyers from the Russian branch of the Center of International Protection (CIP) have requested that ECHR not only allow the adoption, but oblige the Russian government to change its new law.
The legal experts believe that the ban on the adoption of Russian children by American citizens violates several articles of the European Convention on Human Rights.
The matter relates, in particular, to article 8 (right to respect for private and family life). The lawyers contend that familial relations between adoptive parents and a child arise when the latter begins to consider them as parents, not after a court decision.
Moreover, the anti-Magnitsky law is contrary to article 14 (prohibition of discrimination), article 3 (prohibition of torture), and article 13 (right to an effective remedy) of the Convention, according to Karinna Moskalenko, the CIP's projects director.
Lawyer Maria Samorodkinaya is of the opinion that the anti-Magnitsky law bears the hallmark of an "imprecise" document — i.e., it relates to public relations, some of which are unregulated.
Lawyer Valentina Bokareva hopes that the ECHR will undertake measures of a private nature, specifying which individual child should be handed over to which particular family. She also expects the ECHR to deliver an explanation on the extent to which such a law is necessary in a democratic society.
"I do not want to get involved in politics, but we all understand that this law resulted as a consequence of another law," says Bokareva. "The European Court needs to handle the balance between children and intergovernmental relations."
The American families whose interests are represented by the lawyers are all at different stages of the adoption process: for some, a court decision has been rendered but not yet executed; others simply did not have time to begin court proceedings before the anti-Magnitsky law entered into force.
One of the cases in which a court decision was not rendered before the law entered into force involves Geena Coleman, one of the applicants to the ECHR.
Coleman twice met her prospective daughter at an orphanage in St. Petersburg and began the adoption procedure, but she had no time to apply to a Russian court. At their very first meeting, the girl called Geena "mom," and Geena promised to come back for her.
"I can't not fulfill the promise I gave to the child. She already lost her mother, you can't make her go through that again," says Geena.
The story is based on materials from Lenta.ru and the Dozhd TV channel.
All rights reserved by Rossiyskaya Gazeta.