Indian community celebrates Republic Day in Russia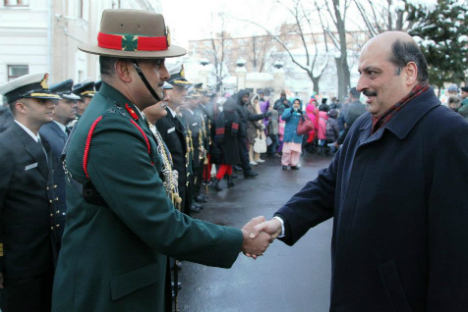 Ambassador Malhotra said India-Russia relations were "unique, multifaceted and time-tested". Source: Press Photo/Embassy of India in Moscow
Flag-hoisting ceremonies and cultural programmes held by diplomatic missions in Moscow, St Petersburg and Vladivostok.
The small Indian community in Russia celebrated India's Republic Day braving the cold for flag-hoisting ceremonies in Moscow, St Petersburg and Vladivostok. The Indian diplomatic missions in the 3 cities held programmes to mark the occasion in 1950 when India stopped being a dominion of Great Britain and became a republic.
In Moscow, the Indian tricolour was unfurled by Ambassador Ajai Malhotra before the singing of the Indian national anthem. The ambassador then read out President Pranab Mukherjee's address to the nation. Children from the Embassy of India School, Moscow, sang patriotic songs to mark the occasion.
Ambassador Malhotra said India-Russia relations were "unique, multifaceted and time-tested" and characterized by "warmth, mutual respect, and understanding." India-Russia trade had grown by 32.5 percent during January-November 2012, compared to the identical period in 2011, he said. December 2012 data would reveal that India-Russia trade had zoomed from $8.9 billion in 2011 to $11 billion in 2012, marking the fastest growth in India-Russia trade in recent years. Malhotra said the rise in bilateral trade was especially noteworthy "given the global economic slowdown and the marginal decline in India's overall trade during 2012."
There is also an increase in the number of Russians visiting India, the Indian ambassador said, adding that there was a 22 percent rise in 2012.
The Republic Day festivities in Moscow continued with the dance collective Nritya Sabha hosting a special concert at the Higher School of Economics, Moscow. The Indian Ambassador will also host a luncheon reception for Russian and other dignitaries at the Ritz Carlton Hotel on Monday.
The Indo-Russian diplomatic calendar will be marked by the visit of Prime Minister Manmohan Singh for the G-20 summit, which will be hosted by Russia and also for the 2013 Annual India-Russia Summit.
All rights reserved by Rossiyskaya Gazeta.