Goa court acquits Russian of terrorism charges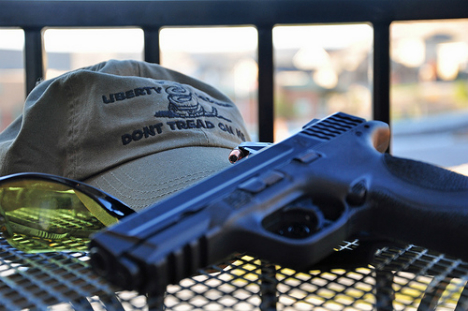 Hunting equipment and unlicensed firearms are banned at Indian airports. Source: Flickr/Eric Holmes
Anatoly Valenko was arrested last year on arrival at the Goa international airport after a 16 mm calibre hunting cartridge was found in his checked-in baggage.
An Indian court has dropped terrorism charges against Anatoly Valenko, a Russian citizen who was arrested at the Dabolim International Airport in Goa last January after a hunting cartridge was found in his bag. It took the man a year to prove that it was a chance occurrence and not intentional malice.
On January 13, 2012, Valenko was placed into custody despite denying any wrongdoing. He refused to plead guilty. As for the cartridge, he said the bag he travelled to Goa with was the one he had used when going out for a hunt back at home. Valenko said the small cartridge probably just got lost in the bag and remained there unnoticed.
This could be a merely amusing incident but for one aggravating circumstance, says General Director of the Centre for the Protection of Russians Abroad Dmitry Davydenko. "The problem is Goa's airport, which is called Dabolim, is a military one. And being such, anyone found in possession of any ammunition on its territory is a gross violation, with all that this implies. Finding oneself in such a situation in such a place is a big problem."
Anatoly Valenko was charged with terrorism. The cartridge in point was 16 mm in calibre. But though hunting rifles of that calibre are pretty uncommon in India, there is the U.S. M-16 military rifle Indians are well familiar with. All that was needed to clarify the matter was a laboratory test, but unfortunately the issue dragged out for months, Anatoly's Father Alexander Valenko recalls.
"They kept saying that they needed to test the cartridge first before deciding what to do – whether to put him on trial or let him go. We appealed to the Indian consulate and to the Russian Foreign Ministry. They replied that it would all depend on the results of the test. But because there is only one cartridge testing laboratory in India, the matter was delayed. I visited the Indian consulate in Moscow and they confirmed that it might take between two or three years."
In the meantime, Anatoly's lawyer convinced the court to soften the measure of restraint and replace the initial charges of terrorism with illegal possession of ammunition. Consequently, Anatoly was released from custody on personal recognisance, his father says.
"He spent a month in jail at a military base. Then, after he was released, he first stayed with Russian Krishnaites for a couple of weeks and then in his Indian lawyer's office for half a year before moving to the lawyer's brothers' place. That brother spent several years in Russia and can speak Russian. He and the lawyer's wife both stood bail for him."
Russian President Vladimir Putin's visit to India was a crucial turning point for Anatoly. Putin intervened for him, and despite the fact that the fateful cartridge test is yet to be completed, he was allowed to return to Russia.
First published in the Voice of Russia.
All rights reserved by Rossiyskaya Gazeta.