Learning to flirt with flowers at Tsaritsyno Park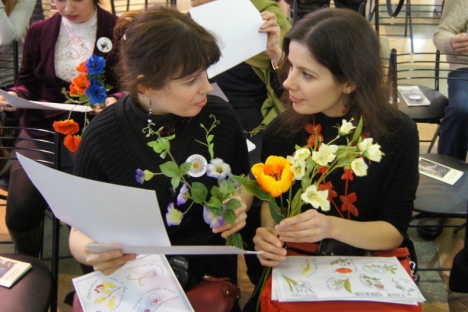 As Valentine's Day approaches, the Tsaritsyno estate is running interactive tours of its greenhouses.
As Valentine's Day approaches, the Tsaritsyno estate is running interactive tours of its greenhouses. Source: Yekaterina Chipurenko
In the 18th century, strict etiquette forced people to go to great lengths to indulge in innocent mischief. One of the most vivid and aromatic examples of this is the "language of flowers." In the run-up to Valentine's Day, Tsaritsyno Park, just south of Moscow, is running an interactive tour coquettishly named "Flirting with Flowers."
Standing in the vine-growing greenhouse at Tsaritsyno Park, it is difficult to believe that Moscow is still locked in winter. A wild orange tree is flowering, and large, golden lemons are ripening. In this truly spring-like atmosphere the first part of the visit begins — the historical part. It takes visitors back to their flower roots: to the era of Peter the Great, when flowers became domestic plants in Russia.
When Emperor Peter the Great returned from Holland, he brought back many new trends that affected all spheres of life in Russia — from how to organize the government to how to organize buildings. Thus, Russian homes acquired wide windows designed in the European fashion, which could be adorned with flowers taken from the gardens.
It only took a few years for these same garden flowers to appear on ladies' dresses and hats, become the embellishment at every ball and whisper secret, hidden meanings from artists' canvases.
When the artist Levitsky depicted Catherine the Great throwing flame-colored poppies into a fire, he was referring to the empress' willingness to abandon any thought of rest for herself in order that her people might sleep peacefully.
The etiquette of that period gave every flower a precise meaning. The narcissus communicated love of self to those around, while the tulip could speak of one's feelings for their beloved. A bluebell stem with nine flowers summoned one to a meeting at exactly nine o'clock in the morning, while a red rose — the flower of passion — could result in a pair never meeting one another again.
The Flirting with Flowers tour at Tsaritsyno Park offers the opportunity to practice unraveling the mysteries of flowers: once participants have armed themselves with an illustrated dictionary of flowers, they can read the message encoded in bouquets.
One game that was popular at grand18th-century balls may also be of interest to modern-day guests at Valentine's Day parties. In every corner of your home, leave small piles of cards on which are written the names of flowers and phrases that decode their meaning. Then, from time to time, guests can pick a card and say a lot to each other, while saying nothing more than the innocent names of flowers.
In the Belle Époque (French for "Beautiful Era," conventionally 1871-1914) every landlord who appeared in public even once had to have such a dictionary. After all, there were secret flower messages everywhere: they appeared on silk and bead embroidery, and in the albums in which young ladies invited their guests to write; they even became a feature of parlor games.
At Tsaritsyno Park, visitors can take part in such entertainment too. The tour leaders organize a game of flower "forfeits" for guests and help them to learn how to write acrostics with flowers — a genre in which the words consist of flowers, each of which represents one letter. Guests can take the acrostics they make away with them as a souvenir.
An acrostic is an unusual idea for a Valentine's Day card. If you want to surprise your other half, write them a love note using flowers: each letter in a word will correspond to the first letter in the name of a flower. Thus, you can make the word "amour" from (a)ster, (m)alva, (o)nagre, (u)vulaire, (r)ose.
The final part of the excursion is a review that tells visitors more about the Tsaritsyno greenhouses. Despite the cold weather in Moscow, flowers bloom and even coffee ripens here.
What makes the greenhouses unique are not just their plant collections but also their design: the flowers grow in tubs, just as they did in the age of palaces. Also, the tubs and pots themselves are exact copies of the ones that once decorated the balls thrown by Catherine the Great; the originals were later found again during excavations in the park.
The final note of this journey through flowers is a drink prepared especially for visitors — "Love Potion." The chef did not share the secret of this ruby liquid served in elegant glasses. He promised, however, that the drink would be especially good for the heart of anyone who tried it — an effect that is particularly important as Valentine's Day approaches.
All rights reserved by Rossiyskaya Gazeta.