Human Rights Watch reports abuse of workers in Sochi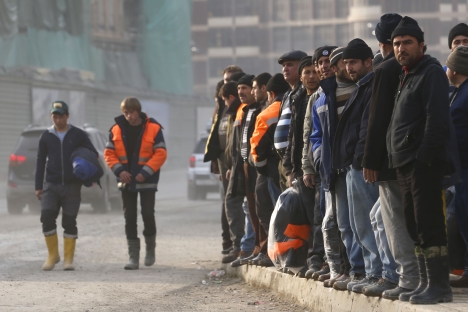 All migrant workers interviewed by Human Rights Watch in Sochi said that they worked long hours with very few days off, according to a recent report from Human Rights Watch. Source: Reuters
Human Rights Watch has posted a report on its website, citing abuse of migrant works in Sochi. Russian officials deny the claims, while analysts doubt the allegations will affect the holding of the 2014 Winter Games.
Human Rights Watch has posted a report on its website called "Race to the Bottom: Exploitation of Migrant Workers Ahead of Russia's 2014 Winter Olympic Games in Sochi," which documents violations of migrant workers' rights in Russia.
The report from the human rights organization could, of course, harm Russia's image, says political analyst Alexei Makarkin of Moscow's Center for Political Technologies. This is especially true, since, just last year, Russia adopted several laws that drew negative reactions from human rights activists and Western audiences.
"But this is unlikely to practically effect the holding of the Games," said the analyst. In anticipation of the 2008 Olympic Games in Beijing, China was also criticized for human rights violations, but this was not a limiting factor for the International Olympic Committee, Makarkin said in an interview with RIR.
The report is based on interviews with 66 migrant workers employed on Olympic and other construction sites in Sochi from 2009 through 2012. Human Rights Watched interviewed migrant workers from Armenia, Kyrgyzstan, Serbia, Tajikistan, Uzbekistan, and Ukraine. Nearly all the workers interviewed in Sochi work in low-wage, low-skill jobs, reporting typical earnings of between 55 and 80 rubles ($1.8 and $2.6) an hour.
Rachel Denber, deputy director of the Europe and Central Asia Division at Human Rights Watch, told Vedomosti that the report was not based on a representative sample because the researchers had a more specific task — namely, to identify the characteristic problems of low-paid labor migrants working on Olympic sites in Sochi.
Delayed wage payments are among the most frequent violations: "Workers consistently reported that employers failed to pay full wages and, in some cases, failed to pay workers at all," the report reads.
Furthermore, "numerous workers on the Central Olympic Stadium site and on the Main Olympic Village site who were interviewed by Human Rights Watch said that employers withheld their first month's wages. Workers received their first payment only after working for two months."
"All migrant workers interviewed by Human Rights Watch in Sochi said that they worked long hours with very few days off. Work sites maintained a system of two 12-hour shifts. Workers most often said they worked from 8 a.m. to 8 p.m., or from 8 p.m. to 8 a.m., with a one-hour break for meals and for changing into and out of work gear. They typically worked seven days a week, with just one day off every two weeks, for long stretches. Russian law specifies a 40-hour work week, overtime pay, and at least one day off per week," the report continues.
Deputy Prime Minister Dmitry Kozak, who is supervising the construction of the Olympic facilities, has denied the statement by the human rights organization concerning violations of workers' rights in Sochi.
"We have very tight control when it comes to workers' rights, operational safety, accommodation, and so forth. This is the domain of the Labor Inspection, the Federal Service for Supervision of Consumer Rights Protection and Human Welfare, Migration Service and Prosecutor's Office. So far we have received no complaints worthy of an international report," said Kozak, as quoted by Interfax.
The article is abridged and first published in Russian in Vedomosti.ru
All rights reserved by Rossiyskaya Gazeta.