Experts speak about meteor fall in Russia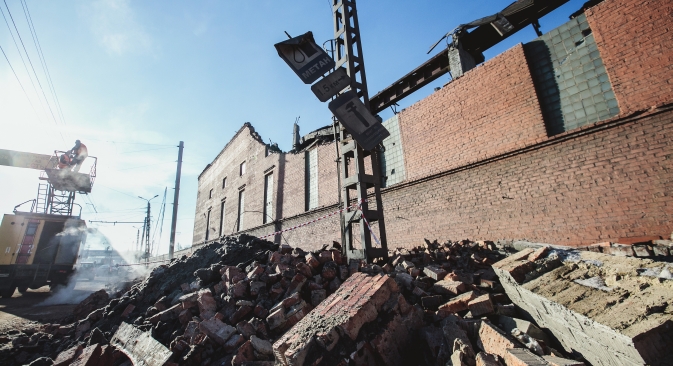 The meteorite fell in the Chelyabinsk region's Satka district, in an area located around 80 kilometers from the district's administrative center. Source: ITAR-TASS
With more than 720 people injured as a result of the meteorite fall in the Russian Urals region, experts make guesses about its size and discuss the difficulties encountered in predicting such events
The meteorite that fell in the Chelyabinsk region on Friday morning was large and weighed several tonnes, Sergei Smirnov, press officer for the Pulkovo observatory and an astronomer, said.
Read more:
"It was a very bright bolide, a large-tonnage object. It fell apart as it was falling," Smirnov told Interfax on Friday.
The astronomer believes the numerous videos of the fall will make it possible to promptly and precisely calculate its trajectory.
Nikolai Zheleznov, an expert with the Institute of Applied Astronomy of the Russian Academy of Sciences, told Interfax the diameter of the Chelyabinsk meteorite could have reached several meters.
"It's difficult to say precisely because bodies shorter than 50 meters are highly likely to disintegrate in the atmosphere and reach earth in the form of small debris, if they don't burn in it fully," Zheleznov said.
The meteorite fell in the Chelyabinsk region's Satka district, in an area located around 80 kilometers from the district's administrative center, the Emergency Situations Ministry spokesperson said. Source: Youtube / martysoffice
The Russian Space agency Roscosmos believes meteorites falls such as the one that has occurred in Chelyabinsk are not easy to anticipate.

"According to available information, the object was not registered by Russian or foreign ground space observation systems due to its special movement characteristics. Entrance by such objects into the atmosphere is accidental and is currently difficult to predict," the Roscosmos press service told Interfax-AVN on Friday.
Roscosmos said the space object that has fallen in Chelyabinsk is a not an object of man-made origin and is classified as a meteorite moving at a speed of about 30 kilometers per second on a lower trajectory.
Currently, Roscosmos is assessing dangers coming from space, including meteorites and asteroids, and developing methods of countering such threats, a source in the space industry told Interfax-AVN.
"Roscosmos has drawn up proposals on how the automated system of monitoring dangers in the nearer space and countering them could be perfected," he said while commenting on a meteorite's crash in the Urals on Friday.
Roscosmos hosted a conference at the end of last year under Roscosmos head Vladimir Popovkin's chairmanship which discussed an early warning strategy for asteroids and comets, he said.
Experts proposed forming a national space monitoring system that would take in data provided by the military space monitoring systems and other systems of detecting and monitoring dangerous space objects, operated by industrial organizations (Roscosmos and the Industry and Trade Ministry) and the Russian Academy of Sciences.
Roscosmos representatives will travel to Arizona, U.S., in April 2013 to attend an international conference on planetary defense which will discuss potentially dangerous objects and the resources the world possesses to study and monitor them, and to lessen their possible impact.
The meteorite flew over the territory of the Chelyabinsk region at 7:23 a.m. on Friday. Its debris injured hundreds of people and damaged buildings in several cities. Buildings' windows went smashed while classes were cancelled in the region's schools and kindergartens.
Up to 725 people, including 159 children, sought medical assistance in Chelyabinsk after the meteorite fall, the city administration reported on its website.
"Thirty-one people, including 12 children, were hospitalized. No one is badly injured or killed. Most injuries are cuts by glass from the windows that were broken by the shockwave," the report says.
The emergency services answered 80 calls and the other victims came to hospitals and trauma points without their assistance.
According to Natalya Gorlova, the head of the Chelyabinsk administration's healthcare department, the city's medical establishments have 1,590 beds for the victims, including 44 beds in intensive care units, 91 beds in trauma units and 341 beds in surgery units.
The story is based on materials from Interfax.ru.
---
The information in this section is provided by the Interfax news agency and is intended for personal use only. It may not be reproduced or distributed in any form without express permission from Interfax. To request permission to republish, email: ifaxru@interfax.ru
All rights reserved by Rossiyskaya Gazeta.