Moscow angered by Russian child's death in the U.S.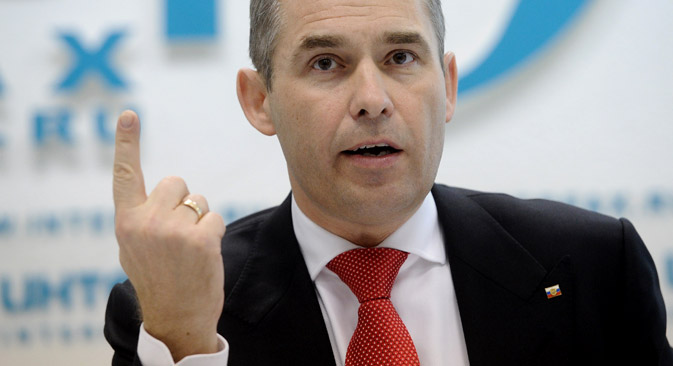 Russian Children's rights ombudsman Pavel Astakhov insists on launching an investigation into Russian adopted child's death in the U.S. Source: ITAR-TASS
The Russian Children's Rights Commissioner Pavel Astakhov announced that Moscow is going to launch a thorough investigation to investigate the case of an adopted Russian child killed in Texas at the end of January.
Russian children's rights commissioner Pavel Astakhov said an adopted Russian child was killed in Texas at the end of January. His elder brother remains with his American adoptive parents.
"Maxim [Kuzmin], age three, was beaten up by his adoptive mother who had been giving him heavy psychotropic drugs, citing the child's psychiatric disorder. The child had multiple bodily injuries, including injuries to the stomach, as well as numerous bruises on his head and feet," Astakhov told Interfax on Monday.
Astakhov also said that the boy's elder brother lives with the same family and that the mother has been barred from taking care of him, although she was allowed to see him.
"Our consuls must be allowed to see the files of the case and to take part in formulating the charges. An investigation must be conducted and the guilty woman must be brought to account. We often get confronted with situations in the U.S. where criminal charges are wrongly formulated. The adoptive parents are charged with premeditated murder and they are subsequently acquitted. No adjusted charges can be further presented," Astakhov said.
Nineteen deaths of Russian minors caused by their American adoptive parents have been reported since 1996.
Moscow hopes that those guilty of the death of the adopted Russian child will be punished, and pledged to closely follow the investigation.
"We do hope that those guilty will be severely punished. We will closely follow the investigation and we must say again that the U.S. Department of State, unlike local officials, provided no assistance to our diplomats in finding out the cause of the new fatality in the U.S. involving an adopted Russian child," the Russian Foreign Ministry's human rights commissioner, Konstantin Dolgov, told Interfax.
Dolgov announced that an inquiry has already been started into the death of the Russian boy.
"We are drawing the attention of the public to yet another instance of cruel abuse of a Russian boy adopted in the U.S. Maxim Kuzmin, age three, is dead. American child welfare services said he died on Jan. 21 in his adoptive parents' home in Texas after being cruelly treated by his adoptive mother," Dolgov said.
"An examination revealed multiple injuries to the child's head and legs. A post-mortem examination also revealed damage to his organs which could only have been caused by a violent impact. It was established that the parents had been giving the boy a heavy psychotropic substance which is normally used to treat severe cases of schizophrenia in adults, not children. It is an excessively heavy and actually an intolerable drug for a child," he said.
"We hope if these facts are proven in the ongoing investigation, those guilty of the boy's death will get due punishment," he said.
Russia's Investigative Committee said on Monday that it had begun to investigate the death in the United States of one more boy adopted from Russia and may open a criminal case after that, committee spokesman Vladimir Markin told Interfax.
President Vladimir Putin signed a law on December 28, 2012, dubbed the Dima Yakovlev Law, which bans American families from adopting Russian children. Russia has withdrawn from the agreement with the United States on cooperation in child adoptions. The law took effect on January 1, 2013.
The article is based on materials from Interfax.
The information in this section is provided by the Interfax news agency and is intended for personal use only. It may not be reproduced or distributed in any form without express permission from Interfax. To request permission to republish, email: ifaxru@interfax.ru
All rights reserved by Rossiyskaya Gazeta.