School children from Moscow and Irkutsk savour Kerala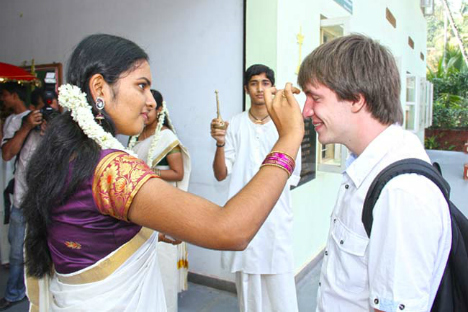 Indian youth welcomes Russian school children in Trivandrum. Source: RCSC
Indo-Russian Students' Club in Trivandrum celebrates its second anniversary by bringing together children from Russia and India.
Ten school students from the Moscow, Samara, Irkutsk and other Russian cities, were in Kerala in early February to take part in celebrations marking the second anniversary of the Indo-Russian Students' Club attached to the Russian Centre of Science and Culture (RCSC) in Trivandrum. The club was established in 2011 at the initiative of the RCSC in Trivandrum, supported by the School of Young Diplomats under the Moscow State University of International Relations.
The main function was held at the St. Mary's Residential Central School, Poojapura, where the 12th Chapter of the Club was formed. The Russian students' delegation was accorded a welcome at the school in a traditional way.
Secretary of the Russian Chapter of the Club Anastasia Bogdanova and Secretary of the Indian Chapter Gatha Namboodhiry exchanged Russian and Indian flags. Following this ceremony, the members of the Russian delegation, led by Denis Mostovoi of the School of Young Diplomats, and Indian delegates, led by Mohammed Benyahin, secretary of the Trivandrum Chapter of the Club, took the oath to carry forward the Russian-Indian Peoples' Diplomacy.
Addressing the gathering, Ratheesh Nair, Honorary Consul of the Russian Federation, and Director of the RCSC in Trivandrum, said that even though strategic partnership existed among many countries, the partnership and friendly ties between Russia and India remained unique and time-tested. "We have more than 10 clubs and societies under the auspices of the RCSC, but the Students' Club is very significant because we need a new generation in both Russia and India which will love and respect each other, because people-to-people contact is the foundation for Russian-Indian Relationship," Nair said.
After the conclusion of the official part of the function, a colourful cultural programme presented by both Russian and Indian students was also held. The Russian students were highly impressed by the Mohiniyattam and folk dance performed by Indian students, and in turn the Indian students were delighted by the dance items presented by Russian students.
The Russian student delegation also made a courtesy call to Kerala Chief Minister Oommen Chandy at his office in the Kerala Secretariat. The students showed keen interest in the live-webcast introduced by the government aimed at transparency in governance, the immense wealth of Sri Padmanabha Swamy Temple, Communism and the current status of student politics in the state. The Russian children also visited some schools and tourist centres of historical importance before leaving the southern Indian state.
The USSR was immensely popular in Kerala, a state that was ruled for many stretches by communist governments. There is also an increasing in interest in post-Soviet Russia in the state.
All rights reserved by Rossiyskaya Gazeta.