Giving all children the right to learn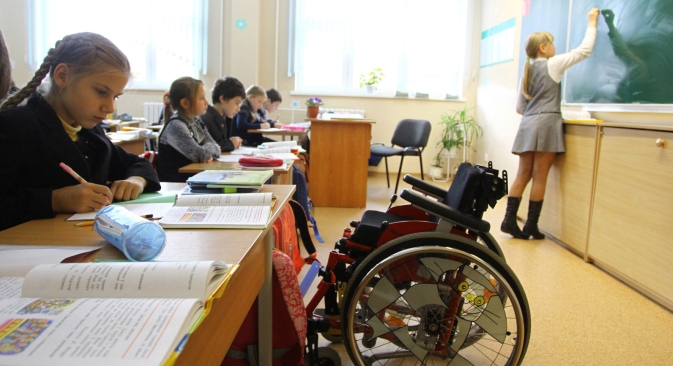 Children with special needs may attend regular state schools under a new law on education. Source: PhotoXPress
A new law on education soon to be passed in Russia will allow parents of children with special needs to demand that their children be educated in regular state schools.
Moscow Technological High School 1540 has been teaching children with autism spectrum disorders (ASD) for over 15 years. "At first we were driven by pity and the desire to help out parents who wouldn't let their children study at special schools seeing that as a path to permanent disability and further isolation from society," said Marina Moiseeva, principal of School 1540.
Slowly but surely, School 1540 has developed an entire system to educate autistic children and now has begun to share its experience with teachers from other schools.
"Before admitting special children, we have an interview with their parents, as we need to be sure we are on the same page, but the parents are required to be honest about their children's issues," said Sofia Rosenblum, chief psychologist and head of inclusive education at School 1540.
The school's employees hold the same kind of conversations with the parents of children who do not have ASD who choose the school for its technology-intensive curriculum, which emphasizes mathematics and computer science. In addition, the school's officials make sure the potential students understand that they will have to study alongside special-needs children who require a great deal of care and compassion.
"What's interesting is almost none of the healthy kids' parents choose to change schools once they end up here. In fact, they say the general climate in a high school is what matters most to them. They are convinced all students will be well taken care of at a school so mindful of special children," said Moiseeva.
As recently as 10 years ago, Russian doctors did not diagnose patients with autism spectrum disorders. Children suffering from ASD would be sent off to schools for mentally disabled children even though autistic patients often demonstrate above-average mental abilities and fail to develop them only because of the challenges they face with social integration.
The socialization process for children diagnosed with ASD is very gentle at School 1540. They start learning in small groups of four and joining regular classes later, when they are ready. Autistic children are allowed to interact in class in ways that suit them best, often in writing and sometimes after the lessons' end. Each student with ASD has a personal tutor who facilitates communication with the outside world and stays with them both at recesses and in class.
This system was set up, said Moiseeva, because it is unreasonable to expect a child with developmental issues to be exactly like other students. Nevertheless, it does not mean such a child will lag behind. "Our special children often win first prizes at contests in physics and mathematics. They are usually best at technical subjects," Moiseeva said.
However, the system also means that School 1540 only has the capacity to accept five or six ASD-diagnosed children per year. It turns down on average nine out of 10 applicants with special needs.
"The problem is, researchers say, the number of such children is growing rapidly around the world. In fact, all the regular schools now have to deal with special-needs children. There will be more of them with each year," said Sofia Rosenblum.
The new law on education will require every Russian school to include special needs children. At the moment, schools are fighting against this order. Experts say that while parents have the right under the law to demand that their children be accepted and taught along with others, in the absence of adequate training for school staff, forced inclusivity will disrupt the educational process affecting students' overall performance.
Svetlana Alyokhina, head of the Institute for Inclusive Education, says there is currently a lack of professionals in Russia with a thorough understanding of this condition and its ramifications and additionally, there is no training available. Unprepared teachers might fail to realize that students' disruptive or annoying behavior may be due to their psychological condition rather than a result of poor upbringing.
School 1540 regularly holds seminars for teachers, training them to deal with children with ASD.
"If we, the leaders of inclusive education, develop a way to involve children with ASD in our academic activities, we will surely manage to include children suffering from other conditions as well," said Alyokhina.
Although including children with special needs may hurt her school's overall ranking in terms of academics, Moiseeva is determined to continue the project.
"People are often puzzled about our determination to work with autistic children," said Moiseeva, adding that the problem is partially that formal performance standards are currently the only tool to evaluate the way children contribute to society.
One way or another, society can no longer insulate itself from the growing number of people with special needs. Assimilation is inevitable, but the road ahead is long and will require the time and effort of dedicated professionals.
All rights reserved by Rossiyskaya Gazeta.