New tax likely on "hidden" ads in blogs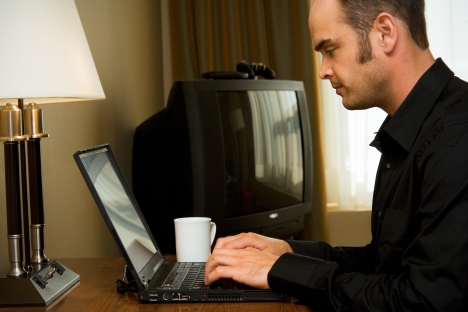 Russian bloggers may soon become obliged to pay for mentioning well-known brands on their blogs. Source: Getty Images
Mentioning famous brands, shops or restaurants in blogs or even social networking sites may be considered hidden advertising by the Federal Antimomopoly Service.
Russian bloggers may soon become obliged to pay for mentioning well-known brands on their blogs. The Federal Antimonopoly Service (FAS) found that such information can be regarded as hidden advertising.
The watchdog is ready to discuss with the State Duma, the lower house of parliament, the introduction of tax sanctions or even a ban on mentioning brands on personal blogs.
Today the Russian segment of the Internet has about 65 million bloggers. It is clear that a small faction of them make money on hidden advertising. Whose interests will the initiative of the antimonopoly service affect? - Those who profit from their blogs or all the rest who simply post from their smartphones their locations on facebook? It is very likely that such a location can be a shop of a famous brand. Or a blogger can have a photo taken in front of his or her car. What should be considered as hidden advertising and what - as personal information and how is the watchdog going to control this? These are the main concerns of the Russian internet community, Ekaterina Pakhmochik, head of the press service of a social network, says: "This is a very controversial issue. How can they trace advertising in blogs. If posts don't usually contain any real ads? For example, a blogger wrote that he had had dinner in a certain restaurant. He liked the place and simply wanted to share his experience of it. Why should this blogger pay a tax for it? As for the tracking of ads there are a few companies that can monitor blogs but I don't understand how it will be carried out in the Russian segment of livejournal where about 150,000 new posts appear daily."
At the same time no one is denying the fact that today the Internet is the most popular and accessible venue for advertisers. That is why it is drawing the attention of the antimonopoly service. As of now there are no specific proposals on how to make a distinction between common bloggers and commercial bloggers, Robert Shlegel, deputy of the State Duma says: "It is necessary to work out rules and set definitions and only then it will be possible to control the internet in terms of compliance with the law. In my opinion it is quite difficult and it is not clear how effective it will be. I think that it is necessary to draft decisions and to discuss them first and only then to take practical steps. In this case the opposite is taking place. This is wrong and inefficient and the antimonopoly service has a lot to think about."
If we look at the foreign segment of the Internet, every country has its own rules of behavior for bloggers. However none of the countries bans mentioning famous brands in blogs. In Britain, for example, everyone is allowed to write on the internet about personal preferences except for propaganda of violence. But if a blogger gets paid for ads he posts on his webpage he is obliged to pay taxes. In Germany hidden advertising on personal blogs is not allowed and special commercial blogs are used for this purpose.
First published in The Voice of Russia.
All rights reserved by Rossiyskaya Gazeta.