Human rights ombudsman seeks to overturn Pussy Riot conviction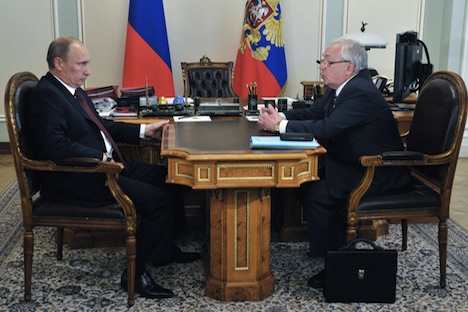 Russian Human Rights Ombudsman Vladimir Lukin (right) seeks to overturn the Pussy Riot conviction. Source: AP
Russian human rights ombudsman Vladimir Lukin want to cancel the conviction of the Pussy Riot band. Will he succeed?
Russia's human rights ombudsman, Vladimir Lukin, has filed a motion asking for the conviction of the punk band Pussy Riot to be overturned. Legal experts note that Lukin's interventions have frequently helped defendants obtain repeals or revisions of court rulings.
Kommersant has learned that Vladimir Lukin has supported a complaint filed by the band's lawyers, who are seeking a repeal of the sentence. Nadezhda Tolokonnikova, Yekaterina Samutsevich, and Maria Alekhina were given two-year sentences in August 2012 for performing a "punk prayer" in the Cathedral of Christ the Savior.
In accordance with Article 29 of the law "On the Ombudsman for Human Rights in the Russian Federation," the ombudsman has the right "to ask a court or a prosecutor's office to examine a court judgment or sentence that has come into legal force."
The ombudsman — or his chosen representative — enjoys special procedural status in trials, effectively speaking for the defense.
In October 2012, the Moscow Municipal Court rejected an appeal of the conviction handed down by a district court. Only Yekaterina Samutsevich was able to have her sentence commuted to probation. The punk band's defense team is now demanding that their conviction be overturned and all members be acquitted.
"The court failed to take into account the non-violent nature of the crime and the lack of any property damage, while a number of procedural violations were committed during the trial," Pussy Riot defense lawyer Irina Khrunova said.
The ombudsman's petition noted that the members of the punk group violated only "the internal rules of conduct inside the cathedral" — something that cannot be regarded as a gross disturbance of public order.
Moreover, he believes that the prosecution failed to prove that the defendants were motivated by religious hatred; therefore their conviction should be overturned as wrongful.
According to Lukin's office, the ombudsman received more than 50,000 complaints in 2011, including requests to appeal "unjust" court rulings. However, Lukin does not act on such appeals frequently, mostly filing petitions for only the most high-profile cases.
"As a rule, an intervention by the ombudsman creates a reasonable chance that an appeal be successful," Pavel Chikov, head of the human rights group Agora, told Kommersant.
First published in Russian in Kommersant.
All rights reserved by Rossiyskaya Gazeta.