Lomonosov back among top 100 universities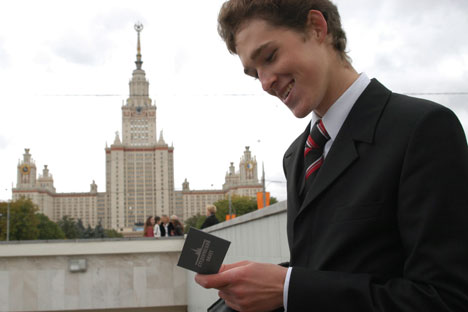 Moscow State University is the only Russian university to make it into the top 100 of the Times Higher Education World Reputation Rankings. RIA Novosti / Tatiana Podoinitsyna
The latest Times Higher Education World Reputation Rankings put Moscow State University back in the top 100 list.
The Times polled academics from 144 countries for their reputation-based rankings, and the Lomonosov Moscow State University (MSU) was the only Russian institution to break the top 100. The head of MSU notes that the university is now in the top 100 of several international rankings, raising the university's reputation and the number of foreign students wishing to study there.
Moscow State University is the only Russian university to make it into the top 100 of the Times Higher Education World Reputation Rankings, coming in at number 50 with a rating of 6.5 (compared to 100 for the top university in the ranking).
The first five places were taken by Harvard University, Massachusetts Institute of Technology, Cambridge University, Oxford University, and UC Berkeley. Last year, MSU was not even on the list.
"It certainly has to do with reputation," MSU Rector Victor Sadovnichy said in an interview with Kommersant FM. "And it is a signal for employers, without a doubt. It is important for foreign students, as it helps them choose which university they want to attend. But I wouldn't put too much stock into the rush for rankings. I'd like to reiterate that the most important thing for a university is to consistently do a good job."
"The Moscow State University has always had a good reputation internationally," Sadovnichy stressed. "And we have our fair share of foreign students — around 7,000, if you include students from the CIS."
"But I'm confident that MSU now being firmly among the top 100 universities in the world — whether it be the Shanghai Academic Rating of World Universities, the Webometrics Ranking of World Universities or the Times Higher Education Ranking — certainly helps increase the number of foreign students wanting to come and study with us," Sadovnichy said.
The Times Higher Education Ranking is reputation-based. It is compiled based on polling the leading scientists and academics according to a fairly complex procedure. The poll was held in March–April 2012, with 16,639 responses from 144 countries received.
Questions were related to academic disciplines: 21.1 percent of the questions were about the social sciences; 21.3 percent were about technology and bioengineering; 18 percent were about natural sciences; 15.4 percent were about medical sciences; 12.7 percent were about biology; and, with the smallest proportion, 10.5 percent, were about arts and the humanities.
University lecturers and professors were polled in their respective fields, rather than being tasked with ranking long lists of universities.
They were asked to name a maximum of 15 top educational and research institutions based on their personal experience. They were also asked specific questions like: "Which university would you send your best graduate to for postgraduate courses?"
According to Sadovnichy, it was a question like this that prevented MSU from making the top 100 last year.
"Last year, we raised an objection against one of the questions, and the objection was accepted. The question initially was: 'Would you send a postdoc to Moscow State University?' We objected, arguing that postdoctoral positions are not very common in Russia, and there are almost none within the Moscow State University," Sadovnichy said.
"We asked to alter the question to: 'Would you be willing to accept a graduate of the Moscow State University as a postdoc in your lab?' This wording makes a huge difference, since our graduates work successfully in countless labs around the world," he said.
The article is based on Viktor Sadovnichy's interview with Kommersant FM radio station.
All rights reserved by Rossiyskaya Gazeta.