Joint Russian-Australian project focuses on environment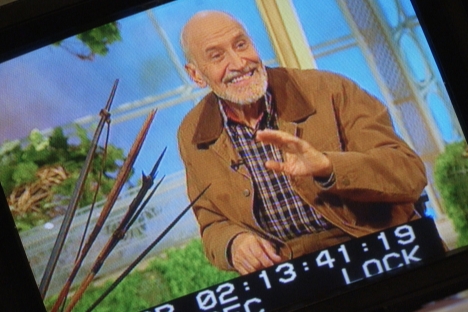 Nikolai Drozdov is known and loved by millions in Russia as an author and the host of the popular TV show "In the World of Animals." Source: ITAR-TASS
Naturalist, explorer and professor Nikolai Drozdov revisits a 1970s journey to Australia as part of Russia's Year of Environmental Protection.
Nikolai Drozdov could be called Russia's Crocodile Hunter. He is known and loved by millions in Russia as an author and the host of the popular TV show In the World of Animals.
A professor at Moscow State University and a member of the Russian Academy of Natural Sciences, Professor Drozdov does not go in for armchair science. Lively and inquisitive even at the age of 75, he has twice navigated the globe, visited every continent, and conquered Mount Elbrus — the highest mountain in Russia. Now he is using his place in Russia's scientific community and popular culture to advocate for conservation.
"Fifty years of my professional career have been devoted to the study of Mother Nature. The time has come to defend her," Professor Drozdov said.
Russia has declared 2013 to be the Year of Environmental Protection. In conjunction with this, Professor Drozdov has embarked on a new international project in the field of culture, ecology and geography, called Flight of the Boomerang.
"Our relationship with nature is like a boomerang; whatever mankind does, good or bad, gets repaid a hundredfold," he said, explaining the initiative. "The project looks at Russia and Australia. The world's fifth continent has great experience of nature reserves and national parks. It is important to adopt the best practices from our Western colleagues, especially since the country is open to the entire world, including Russia."
As part of the project, a book Professor Drozdov wrote after a visit to Australia in the early 1970s — also called Flight of the Boomerang — will be republished in Russian and English.
At the time, he was engaged in practical fieldwork at the zoology department of Australian National University, and spent many days and nights "out in the eucalyptus forests, savannas, deserts, mountains and tropical islands, searching for kangaroos in the glades or observing a sluggish koala atop a eucalyptus tree."
However, the book is not just about a journey across the continent. It expounds his philosophy of love for nature, which is at the centre of his life and work. He writes of his "deep respect for the Australians, who cherish their land and in doing so have created a unique system of wildlife preservation".
Australian poet, artist and scientist David Wansbrough will supplement the book with poems and vivid illustrations of Australian animals. "I made Nikolai Drozdov's acquaintance many years ago, but only recently managed to read his book Flight of the Boomerang in English translation," he said. "It was a real discovery; I saw my beloved country through the eyes of this amazing scientist and was captivated by his portrayal."
The joint project will continue in the form of a documentary about nature and people. Filming will take place in both Russia and Australia. In the film, Professor Drozdov and Mr Wansborough will talk about the need to respect and care for nature, and use natural resources carefully.
"We, as professional ecologists, together with the project organisers, will do everything possible to make this a landmark year in improving the quality of the environment in Russia and worldwide," said Wansborough.
All rights reserved by Rossiyskaya Gazeta.