Bolshoi acid attack: Lazy criminals run amok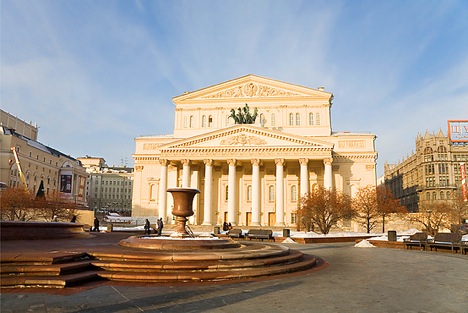 Bolshoi Theatre in Moscow. Source: lori/legion media
Using intimidation and violence to get your way is a popular problem-solving tactic in Moscow.
"If you look at the big picture, this isn't just throwing acid at [my] face, this is throwing down the gauntlet to the whole of our society," Sergei Filin, artistic director of the Bolshoi Ballet and recent victim of an acid attack, told Itogi this week.
Although the alleged organizer of the crime against Filin has been identified as Bolshoi dancer Pavel Dmitrichenko, top management at the Bolshoi Theatre and Filin himself believe that others are also involved. According to them, Dmitrichenko is covering for someone else, a shadowy "puppet-master."
This would also sound like the plot to a bad TV movie, if it weren't for the stark reality of a famous artist being disfigured outside his home in downtown Moscow.
The audacity of the crime itself will keep people talking for many years to come. But in a different sense, is it really so surprising that this happened to Filin?
Using intimidation and violence to get your way is a popular problem-solving tactic in Moscow. And why not? According to official statistics, published last month by Rossiyskaya Gazeta, less than 30 percent of all registered criminal cases are solved in the city. Statistically speaking, if you really want to harm someone, the odds are on your side.
Filin is right to speak of a gauntlet being thrown down - but if you look at it from a different angle, it seems that said gauntlet was thrown long ago. The "anything goes" spirit of dealing with your rivals has thrived for the past two decades. Meanwhile, the police, aside from being mistrusted by virtually every other Muscovite, have had a hard time catching up as Moscow's population ballooned and the criminal underworld flourished.
In this atmosphere, criminals often act as though they don't even have to try. The police claim that the man who actually threw the acid in Filin's face, career criminal Yury Zarutsky, seriously messed-up when it came to covering his tracks, making things easy for detectives.
Zarutsky, who was paid less than two thousand bucks for his "services," was even stupid enough to insult Filin while going up before a judge last week. Dmitrichenko has meanwhile claimed that he asked Zarutsky to just "beat up" the artistic director, as opposed to attack him with acid.
The tale of the bumbling criminal would be almost funny - until we recall that criminals who attack less famous people routinely get away with it.
First published in The Moscow News.
All rights reserved by Rossiyskaya Gazeta.