Twitter agrees to block content in Russia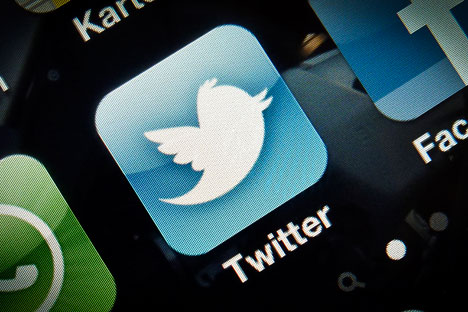 Twitter has agreed to cooperate with the Russian authorities and has limited access to materials that contain unlawful content for Russian users. Source: AP
Twitter starts cooperating with the Russian authorities to remove certain content related to child pornography, suicide and drugs from its website, and it has already blocked content in five different cases.
Russian law stipulates that website owners and hosting providers have to remove certain content related to child pornography, suicide and drugs. Twitter is now cooperating with the Russian federal service that policies for violations of this legislation, and it has already blocked content in five different cases.
Twitter has agreed to cooperate with the Russian Federal Service for Supervision in the Sphere of Telecom, Information Technologies and Mass Communications (Roskomnadzor). For Russian users, the Internet service has limited access to materials that contain unlawful content and has notified the Russian watchdog.
The administration of Twitter has blocked three items for "propaganda of suicidal sentiments" and two for disseminating information about illegal drugs. The user who advertised drugs lost his account.
Roskomnadzor referred to Twitter's position as "constructive." The service believes that the sides have managed to find the right pattern for cooperation. This helps eliminate unlawful content during a timeframe that suits Russia, Roskomnadzor said in a statement on its website in mid-March.
Under the current legislation, owners of websites and hosting providers must remove information containing child pornography, promoting suicide or displaying ways to make and use drugs. If such information is detected, the sites containing it are included on the so-called black list — a unified register introduced in November 2012. Roskomnadzor sends relevant notices to the resource owner and hosting provider.
"We regard Twitter as a hosting provider that has no access to the black list. If we discover illegal content on their website, we notify them. This procedure will remain in place," Roskomnadzor spokesperson Vladimir Pikov says.
Roskomnadzor sends individual notices to Russia's biggest social networks as well, representatives for the social networks VKontakte and Odnoklassniki told RBC Daily.
"We must comply within 24 hours of receipt. The deleted content is marked 'blocked on demand of Roskomnadzor' and may apply to communities, videos or profiles," says VKontakte spokesperson Georgy Lobushkin.
Roskomnadzor has been in talks with Twitter since the first links to illegal content were included on the unified register.
The most notorious story is Sultan Suleimanov's (@sult) tweet: "Friends, commit suicide, it's fun. I tried, and I loved it, I will do it again tomorrow."
The tweet appeared on October 31, 2012, before the black list was launched. The tweet has since been blocked, but it is still accessible from Google cache. Sultan claims that the notice of his tweet being blocked was received on March 12, 2013.
If the owner fails to delete illegal content within three days of receiving a Roskomnadzor notice, communications providers are supposed to block access to the entire website located at the IP address.
Alexei Lukatsky, information security advisor at Cisco, notes that the law on black lists was originally designed for IP filtration: "Given the dynamic generation of page addresses in, say, Facebook, it makes no sense to include some URL-addresses on the black list. Also, blocking URL-addresses is more expensive for operators than IP filtration."
First published in Russian in RBC Daily.
All rights reserved by Rossiyskaya Gazeta.