"I'm Sonya Leventsova and I made a cartoon. The last film we made was about air balloons," a lively girl with a shaved head says on camera.
The cartoon Sonya made was drawn by children undergoing cancer treatment in Moscow and St. Petersburg clinics. Yet there is nothing in those colourful episodes of the Brief History of Aviation project to suggest the authors are ill.
The videos tell viewers, in children's voices, of man's first attempts to conquer the sky: how Leonardo Da Vinci chased a fly to see how its wings worked.
It took 10 months to create five episodes of the series. The project was organised by Transaero Airlines with the St. Petersburg animation studio Da, and the cartoons are now shown in-flight and in the airline's business lounges.
There are already plans to make a sequel: "The results have shown that children are gaining confidence," says Elena Zhuravlyova, head of the social programmes group at Transaero Airlines.
"They can see they mean something and this has a positive effect on their rehabilitation, doctors and psychologists confirm."
The company CEO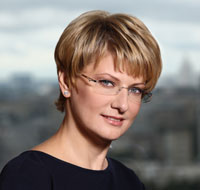 Experts say corporate volunteering has been increasing in Russia for several years. At Transaero, this initiative comes from the top: CEO Olga Pleshakova is convinced corporate volunteering is not just about the company's social responsibility programme, but is an integral part of its HR policy that allows employees to show their best sides and develop their potential. Often Ms Pleshakova comes up with the ideas, such as flying children undergoing rehabilitation for day trips to different cities on flights where all crew members are part of the Transaero volunteer movement. She regularly meets volunteers and discusses their work. "I'm convinced the social initiatives of employees should be met with understanding and support by management," says Ms Pleshakova.
The project is just one of Transaero's charity program, aimed at helping children in difficult situations, which have received a variety of awards. In 2009, its corporate volunteer program won the People Investor award of the Russian Managers' Association.
In 2012, Transaero's corporate social responsibility programme made the top three in Russia, following Sistema JSFC and pharmaceutical company Katren, according to an annual joint study by the Vedomosti newspaper, PricewaterhouseCoopers and non-profit partnership Donors Forum.
In the autumn of the same year, the airline was assigned the top AAA(s) corporate social responsibility rating.
Its program, Back to the Future, focuses on three major areas: air transport, rehabilitation and volunteering. The airline is working closely with Russian charity foundations to assist in the treatment and rehabilitation of children with cancer, as well as helping orphans.
The airline gives children and parents free air tickets to take them to Moscow, St. Petersburg or even abroad.
"Transaero's help is invaluable", says Jamilya Aliyeva, chair of the Nastenka Charitable Foundation, which helps children suffering from cancer.
"With airline tickets being so expensive, many parents could not afford to bring their children over for follow-up tests after treatment. Now all parents need to do is call to order a ticket for free. Children arrive on time for examinations, which is very important since the loss of a single day can cost a life," Aliyeva adds.
The airline also organises winter and summer camps for child cancer patients, providing medical and psychological rehabilitation after treatment, and funds a year-round facility in Moscow, where children and their parents can receive legal aid and psychological help.
Transaero employees have been actively involved in child cancer patient rehabilitation and social adaptation of orphans, with 500 of the company's staff volunteering regularly. Experts say corporate volunteering has increased recently in Russia.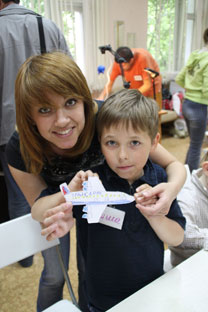 Flight attendant Yulia Makhova at work on the Brief History of Aviation project. Source: Press Photo
Ekaterina Tvorogova, 28, has been a manager with Transaero and volunteer in its social responsibility programmes for five years. She sings in the band, Nebesny Ekipazh (Sky Crew), which includes pilots and flight attendants, and plays at parties for sick children and orphans.
"Pilots always attract great attention," Tvorogova says. "We let children take pictures with them, try on their caps, ask them about their planes."
"It's a positive experience for children who have beaten an illness, since they get to see people who are not wearing white coats," she explains. "It gives them joy and maybe even brings them a little closer to recovery."
Ekaterina is also one of the company's 200 employees who regularly take part in corporate blood donor drives.
In other activities, employees make regular visits to hospitals and cancer clinics to entertain children with games and shows.
"When you see a child fighting a disease, all your everyday worries fade away. You start looking at life from a different angle," Ekaterina says.
Many bring their families along to entertain the children.
For example, Ivan Melnikov, 34, head of the flight documentation security, started out with Saturday visits to foster homes and orphanages together with his colleagues; he then began to take part in the parties for the children.
"Once, I was a host at a New Year performance and I made a real hit. Everyone wanted to take a photo with me – that's because of my costume," he laughs," I was dressed as a rabbit!" He also brought his own children along once, aged eight and nine.
Just like many other employees, flight attendant Darya Panicheva, 25, started out with one-off visits. Through their corporate volunteer programme, she learned about the Big Brothers Big Sisters programme, which takes care of orphans.
Darya now has a "little sister": Vika, 15, who lives in an orphanage. Darya explains: "We meet at least once a week. It is very important for the children to have friends who care for them, to socialise, because they are confined to a narrow circle of contacts."
For those who cannot help in person, there are options for making private donations for treatment that are then channelled to the relevant charities.
"I believe that, unlike many other corporations, Transaero has built very sound and consistent relations with charitable foundations: it provides stability and lets us plan ahead," Aliyeva says.
All rights reserved by Rossiyskaya Gazeta.