Oligarchs' offspring: Going solo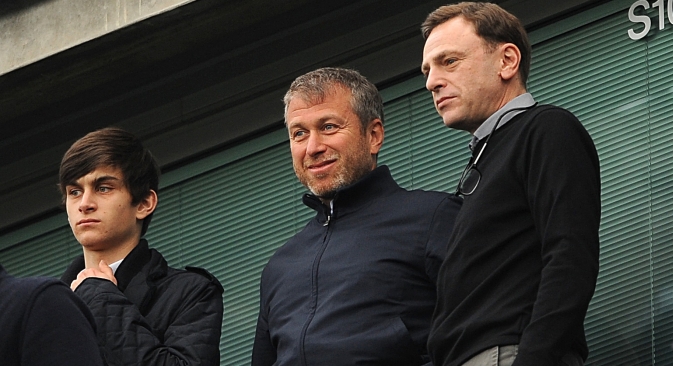 A growth in the number of Russian billionaires is partly explained by the fact that children of Russia's oligarch seek to create their own business. Pictured: Russian oligarch Roman Abramovich (center) with his son Arkady (left). Source: ITAR-TASS
Many do not follow in their parents' footsteps, setting up their own businesses instead.
The children of Russia's billionaires do not all choose to take up their parents' wealth and business empires. In fact, many have started to make names for themselves with separate enterprises. Others are not given the choice: some must go into the family business for a time, while others are not even offered the chance.
The son of Russian billionaire Roman Abramovich, 19-year-old Arkady, continues to invest in natural resource assets: In late March he acquired a stake in the company CenGeo Holdings, which owns a major oil field in Siberia. The investment is estimated at $46 million. The young billionaire is buying up assets through proprietary investment company AAR Capital Ltd., which his father named after Arkady's initials.
It should be noted that this is not Arkady's first purchase: In 2011, Russian information portal Marker reported that Zoltav Resources Inc., whose major shareholders include Arkady, had acquired shares in Rosneft, Lukoil, and Gazprom worth $626,000. For the record, Arkady Abramovich is also doing an internship at a bank in England.
Russia's rich list continues to expand. According to CEO magazine's annual ranking, the number of Russian-dollar billionaires rose last year from 120 to 131.
Experts say that this trend will persist, primarily because the grown-up heirs of Russia's billionaires do not always take up their parents' core business, but instead cut loose and create their own independent businesses.
For example, at the age of 20, Kira Plastinina, daughter of Sergei Plastinin (co-owner of the large agricultural holding Development of the Regions and member of the board of directors of Asian-Pacific Bank), is already known in Russia as a designer: She produces clothing and footwear under her own brand "Kira Plastinina" and owns a network of stores across Russia and the CIS.
Plastinina's main competitors are Spain's Inditex (Zara brand) and Sweden's H&M. Her private wealth has not been estimated, but she could well supplement the list of Russia's richest people in years to come.
Meanwhile, 33-year-old Emin Agalarov, son of Crocus Group President Aras Agalarov (worth $1.6 billion according to Forbes Russia), in addition to being involved in his father's development business, is also a professional musician. One of his ventures is Crocus City Hall – a concert venue that has become one of the most popular in Moscow by hosting international stars.
True, some children of Russia's business elite prefer to find a vocation more in tune with the soul. Tatiana, daughter of AFK Sistema founder and owner Vladimir Yevtushenkov (estimated to be worth $6 billion), worked for several years in her father's company, but then moved to the position of adviser to Sberbank head German Gref.
"The opportunities at Sberbank are incomparable to anything else out there. I moved because it's interesting here, it's got drive, and my job is what I've wanted to do all my life," Tatiana Yevtushenkova explained to RBC magazine.
Incidentally, billionaire parents do not always want to bequeath their fortunes to their heirs. Give children a million and you give them a start in life; give a billion and you deprive them of a successful future, reason many of them. For instance, Russian oligarch and president of the holding company Interros, Vladimir Potanin (estimated wealth at $14.3 billion), plans to give more than half his money to Bill Gates and Warren Buffett's charity, Giving Pledge.
"I believe that children need to escape the shadow of their parents, live independently, and fulfill themselves as citizens," said Potanin. The oligarch has three children: Anastasia and Ivan are passionate jet-skiers and multi-time aquabike champions of Russia.
Still other businessmen leave their capital to their children, knowing it may not be what their children will always want.
Earlier this year, Lukoil President Vagit Alekperov (worth $13.5 billion) announced that he had bequeathed his stake in the oil company to his son Yusuf, who is currently employed onsite at fields in Western Siberia.
"I am not grooming him as my replacement. I've devoted myself to one kind of business, and he can devote himself to another if he pleases. But he must cut his teeth and see how oil workers do their job. He was a worker, now he's a process engineer. After he's trod that path, let him choose his own destiny," Alekperov said on air in an interview with Echo of Moscowradio station.
All rights reserved by Rossiyskaya Gazeta.