Will Russia's anti-corruption campaign improve the business climate?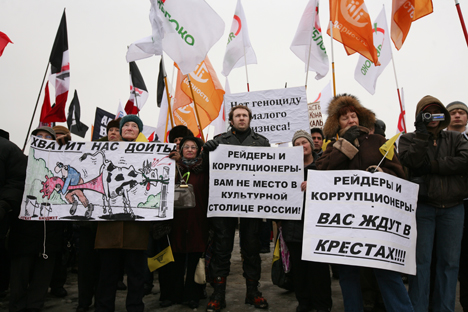 Participants in the rally in St.Petersburg with posters: "Raiders and corrupt officials - There's no place for you in cultural capital of Russia". Source: ITAR-TASS
As entrepreneurs begin to reap benefits from a top-down war against corruption, its long-term effects on the business climate remain uncertain.
Russia's staggering annual $300 billion corruption market (according to the government's own figures) permeates nearly every aspect of life, from registering a business to obtaining a spot in a state-run daycare facility.
"Corruption is systemic, with plenty of unpunished criminals," says Yelena Panfilova, head of Transparency International Russia.
Moody's recently blamed corruption for its decision not to upgrade Russia from its Baa1 long-term investment rating for the last five years despite low debt levels and a budget surplus.
Six months ago big heads began to roll: Ex-deputy minister of regional development Roman Panov went to jail over misuse of $93 million earmarked for preparation of the 2012 APEC summit in Vladivostok while former defense and agriculture ministers Anatoly Serdyukov and Yelena Skrynnik were embroiled in similar scandals.
Russia jumped 21 places in Transparency International's Corruption Perceptions Index (albeit from 154th place in 2010 to 133rd last year).
The Group of States Against Corruption, a European watchdog, praised authorities' initiatives in a recent report.
"The effects are already being felt by the average citizen and entrepreneur," said Dmitry Butrin, business editor at Kommersant, a leading daily.
"Municipal finances have become more transparent, and the average local traffic police chief is afraid to become involved in corrupt schemes."
But when the battle moved into Russia's lower house of parliament, experts began seeing political motivation.
Several deputies from the opposition Communist and Just Russia parties had their mandates revoked over alleged conflicts of interest.
Then pro-government party United Russia came under fire when Vladimir Pekhtin, ethics committee chairman, resigned over alleged ownership of $2 million luxury properties in Florida. More resignations are expected.
"The reasons are political," Anton Belyakov, a member of parliament from Just Russia and chairman of the Public Anti-Corruption Committee, said.
"After the last elections parliament members, including members of the ruling party, began showing independence and disregarding the President's position. His administration needed to show who was boss."
"The problem is their entire campaign is directed from above in each case and is not systematic," said Butrin, adding: "The current culture of corruption is a very difficult thing to change. To kill [it] entirely would be to dismantle today's system."
Jon Hellevig, founding partner of Moscow-based Awara Group, disagreed.
"It's incorrect to call what's going on now a campaign because a lot of laws limiting bureaucracy and the power of inspectors have been passed in the last five years and SMEs are beginning to reap the benefits.
Those companies choosing not to engage in corrupt practices are now enjoying a more level playing field."
"We still have two major legislative loopholes that need to be addressed," said Panfilova.
"Officials found to have illegal incomes are usually just fired and don't face any real punishments, and there are no real mechanisms to protect whistleblowers.
People are afraid to speak up because they can face repercussions. The most famous such case is the scandal around Sergei Magnitsky."
All rights reserved by Rossiyskaya Gazeta.