Star-crossed lovers found each other 60 years after wartime romance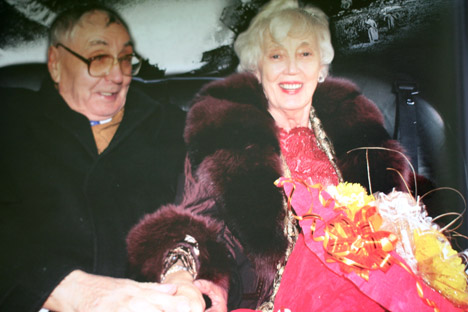 Russian soldier Ivan Byvshikh and German woman Elizabeth Waldhelm got married 62 years after WW2. Source: "Neizvestnaya Sibir" magazine
A Russian Red Army veteran relives his love for a German girl and their romance amid the ruins.
It was an unlikely romance: a Russian soldier and a German woman in the first months after the end of World War II. And it would be an even more unlikely marriage: two octogenarians who had not seen each other in more than 60 years.
Ivan Byvshikh. So
urc

e:
Personal archive
In July 1945, Ivan Byvshikh was a 20-year-old Red Army soldier and the commandant of three small German towns southwest of Berlin – Heyerode, Diedorf and Eigenriede.
There was little unofficial contact between German civilians and the occupying force, but Byvshikh had a German friend, a former Wehrmacht solider. He introduced Byvshikh to his sister, Elizabeth Waldhelm, and the two were immediately smitten.
Soviet soldiers were not supposed to date German girls, but Byvshikh and Waldhelm moved into a tiny flat. Love affairs were tolerated by superior officers as long as they were casual, but Byvshikh set off alarm bells when he said he wanted to marry the German girl. He was immediately sent back to the Soviet Union.
The separated couple – he in Siberia, she in Germany – wrote to each other every day for ten years.
Elizabeth Waldhelm.
So
urc

e:
Personal archive
"I was waiting for Vanya; I had my hopes," said Waldhelm in an interview several years ago. "I thought that as soon as Stalin died, we would have our chance."
It was not to be. In 1956, three years after Stalin's death and during the so-called Thaw, Byvshikh was summoned before a security committee and told to stop this "disgraceful thing with Germany." He was threatened with the Gulag.
Byvshikh wrote a farewell letter to Waldhelm. Each got married, and appeared to have moved on. But neither forgot their tragic romance amid the ruins.
Many decades later, the veteran was alone again. His friends, who knew of his wartime romance, contacted Waldhelm and invited her to Krasnoyarsk to visit her old flame. The contact had a profound effect on the German woman. She started divorce proceedings, applied for a visa to Russia, and eventually flew east to her true love.
Byvshikh didn't know she was coming but his friends did. They called on him and told him to shave and put on his best suit for a meeting with a very important person at the local history and genealogy society. Byvshikh was short-tempered with his friends as they drove him to the meeting, taking the long way so everything was in place.
"Do you think I'm some kind of child? Who do you think you are? Tell me where you're taking me!" Byvshikh grumbled.
The car stopped near a strange house. "Take the stairs to the second floor," his friends told him. "As soon as you walk into the room, you'll see everything for yourself."
Byvshikh was met by an elegant old lady with a shock of grey hair. He thought it was a dream. "How did you find me?" Byvshikh kept asking.
They were wed in the Krasnoyarsk civil registry office in 2007. A throng of reporters — Russian and German – were waiting for them when they pulled up in a black Lincoln limousine.
"Is your decision to become a husband and wife sincere and free?" was the obligatory question from the registry office official.
"Yes, of course!" Waldhelm responded, laughing as she spoke.
The newlyweds moved into a large flat – a gift from the former governor of Krasnoyarsk Region. A seemingly ordinary elderly couple, they went out for walks, read and talked. They mostly spoke German – Byvshikh could still remember enough of the language from his days in the army.
Elisabeth Waldhelm died three years ago. She fell ill and went to Germany to get treatment. She called her husband several times every day. "I'll be home in a month, two at the most," she promised. But then the calls stopped; Waldhelm had suffered a stroke.
Byvshikh didn't go to the funeral; his children were afraid he wouldn't survive the trip.
"I still love her," the veteran says today. "I love her very, very much."
All rights reserved by Rossiyskaya Gazeta.