Volgograd: When gay bashers kill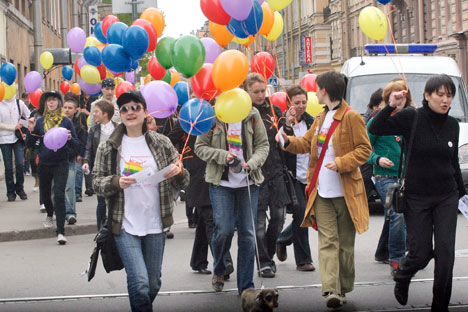 Russia's gay activists taking to the streets to defend their rights. Source: ITAR-TASS
The brutal murder of a gay man in Volgograd over the weekend has caused an outrage in Russia with some pointing fingers at politicians behind anti-gay legislation.
It may be easy to dismiss the link between the anti-gay position adopted by certain politicians and the horrific murder of a gay man that occurred over the holiday weekend in the town of Volgograd.
A Facebook friend pointed out to me that banning "gay propaganda" is "certainly not the same thing" as raping a man with a bottle and smashing his head in with a rock (excuse the gory details, but the full truth of what happened cannot be ignored).
I agree. It's not the same thing.
Yet in adopting anti-gay legislation, politicians are playing up to exactly the kind of people who casually grumble that "all gays should be lined up against the wall and shot." Most of these people don't mean it - they're just used to saying these kinds of things and are comfortable in their knowledge that their socially conservative peers will support them. Yet a few harbor dark, violent fantasies. When we draw a distinct line in the sand and say that "these people over here espouse dangerous propaganda and must be stopped," we not only make gays more vulnerable, we also send a certain kind of signal.
As journalist Yelena Zelinskaya wrote on Pravoslaviye I Mir, a popular Orthodox portal, in response to the murder: "Society is incredibly exact in its readings of signals... sent to it by the bosses. And the signal has come: [gay bashing] is allowed! Come on, lads!"
"Who Loves Pankratov?" is a play by Dmitry Karapuzov, set in a small town similar to Volgograd. Pankratov, a factory worker, casually tells a coworker that gays deserve to be shot, while both men are waiting for the bus. Pankratov then begins to receive love letters from a man who claims to be his neighbor. Pankratov wants to find the author of the letters and badly beat him up - but he keeps reading. Pankratov's own life is gradually revealed to be joyless and hard. His wife and son are, at best, apathetic toward him and his only entertainment is getting drunk. The only person who appears to appreciate Pankratov is the anonymous letter-writer.
I won't tell you how the play ends, but though initially light-hearted, it goes on to ask uncomfortable questions. Chief among them is the question as to what drives gay bashers. Is it happiness? Is it love?
First published in The Moscow News.
All rights reserved by Rossiyskaya Gazeta.