Divine Inspiration from Russia arrives in Holland's Utrecht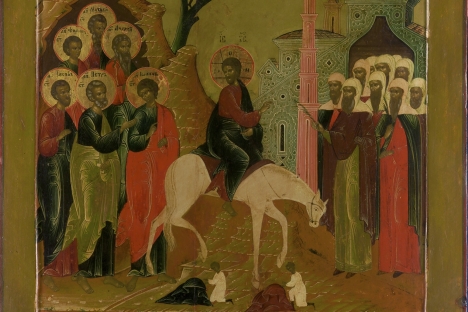 An exhibition of icons from one of Russia's most famous museums opened in the Netherlands city of Utrecht as part of the Russia-Netherlands year.
A 15th century Russian icon presented at the exhibition in Holland. Source: Museum Catharijneconvent
The Museum Catharijneconvent in Utrecht, 40 km from Amsterdam is hosting an exhibition entitled "Divine Inspiration" in cooperation with the Andrey Rublev Museum in Moscow. The Rublev museum, named for one of Russia's most famous icon painters, is home to one of the world's greatest collections of Russian Orthodox icons.
The exhibition aims to show the differences between Western religious art traditions and Eastern ones. The 30 Russian icons from Rublev Museum are supplemented by icons from the Museum Catharijneconvent's own collection as well as private collections. The icons date from the 15th to the early 20th century.
Orthodox icons are written according to strict rules. They are not considered art objects, but rather an integral part of Orthodox worship. Russian Orthodox icons can only be made from natural materials, such as wood and egg-based paint along with gold leaf and dyes extracted from semi-precious stones. Artists of Russian Orthodox icons are rarely known. Andrey Rublev is a notable exception.
A 15th century Russian icon presented at the exhibition in Holland. Click to enlarge. Source:Museum Catharijneconvent
There are several major icon images. One of the most famous is the icon of Christ "not made by human hands."
This icon, which shows the face of Christ on a cloth, either represents the imprint of Christ's features that remained on a towel offered to him by Saint Veronica as he walked to Golgotha, or the Mandylion, the imprint of Christ's face on a towel he sent to King Abgar of Edessa in order to cure him of an illness. An icon with this image is among those on display at the Museum Catharijneconvent.
"One of the most interesting icons from the Andrey Rublev Museum that you can see in Utrecht is the Mandylion that was drawn in 17th century," said Boris Eremin, a restorer at the Andrey Rublev Museum.
"It was made by an unknown artist from the small city of Veliky Ustyug, 900 km far to the north of Moscow. Although this icon was created according to the very strict rules, it is very original, touching, gripping and it illustrates a way of painting in the north of Russia," he added.
A Russian icon, late 16th - early 17th century. Click to enlarge. Source:
Museum Catharijneconvent
Other icons in the exhibit show the influence of Western artistic trends. In 1547, Moscow burned to the ground and Tsar Ivan IV (the Terrible) invited foreign architects to come and help rebuild the city.
They brought with them new techniques and concepts of beauty. As a result, Russian artists began to play with light and shadow, perspective and ways of painting human bodies.
"You can see the icons with fancy architecture and landscapes in the background, clearly inspired by Dutch and Flemish etches and engravings," said Désirée Krikhaar, the curator of the exhibition.
A 17th century Russian icon presented at the exhibition in Holland. Click to enlarge. Source:Museum Catharijneconvent
"Even the round world instead of a flat horizon came from western examples. Representative choice of icons shows the development of icon painting in Russia and the influences from the western countries on Russian art," Krikhaar added.
According to the Museum's statistics as well as anecdotal evidence, the exhibit has been very popular with visitors.
"We were here for the exhibition's opening ceremony and now we came back to see it again," said Carolina and Eric, who live in Utrecht.
Added Rebecca from the UK, "I came to the Netherlands for my holidays. I am very interested in religious and I like visiting exhibitions, so my friends recommended that I see "Divine Inspiration."
The exhibit continues through Aug. 4.
All rights reserved by Rossiyskaya Gazeta.