Moscow ballet: Top of the world for one British student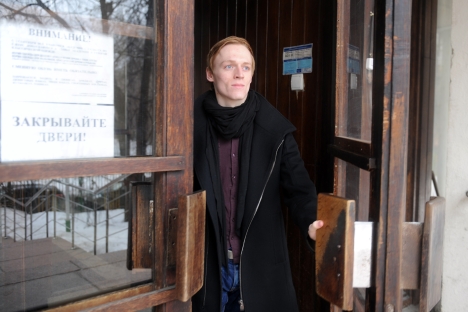 Great Britain's Daniel Dolan appreciated the Moscow ballet. Source: RIA Novosti / Alexander Utkin
Daniel Dolan, a dance student from Great Britain, tells Moskovskie Novosti of the advantages Russia offers in studying ballet, as well as what it is like to be a foreign student in Moscow.
I have been studying at the Moscow State Academy of Choreography for four years. I first began dancing as a child in England, and I started taking classes seriously at about the age of 10. Later I studied ballet in Chester. At a certain point, though, I realized I had to take it to a whole new level. I made a good impression at the audition, and they invited me to the Moscow State Academy of Choreography, which we call the Bolshoi Theatre Academy.
Moscow is really as high as it gets, especially for male dancers.
Your first year at the academy is a kind of traineeship, when teachers keep an eye on you to see how you do. Most students return home after their first year. Naturally, my dream was to stay for the whole four years, because there is no better place in the world of ballet than this. Russia has a great ballet tradition. Our teachers are successors of the Soviet school: They know how to make you achieve results, pushing you to the edge of your ability.
The Russian ballet education is profoundly different from what we have in Britain. There, you just dance at your own level, never stepping beyond your comfort zone. Here, they make you do something new every day, introduce new elements.
During my first six months here, I made better progress than I had in years in Britain. I practice every day, from 9 a.m. to 8 p.m., with an hour lunch break. Even the classes are far more difficult than those at home. Moscow teachers are perfectionists: They won't let you move on until you get it absolutely right.
It really is grueling, both physically and emotionally. If you don't get something right, your teacher yells at you. Teachers here yell a lot. Yet this is a good thing, too. Unless you have such a stimulating person to get the best out of you, you may never realize your potential.
I am lucky in that I am very emotionally stable, but some of my fellow students were far too vulnerable at the beginning. You could see guys crying. A dancer from Japan went home after two weeks of studying in Russia and never danced again. Few people can get through this. The Bolshoi Academy is a playoff – you either stay or lose. I understand that, if I want to dance in one of the best theatres of the world, I have to study here, and that is what I actually need.
Ballet is not all we study at the academy. We also have general classes in Russian. At my first class in Moscow, I did not understand a word, but I have learned some Russian by now. Some things are very different here from in Britain: We take a lot of notes during classes in Russia; they dictate a lot. It is certainly a challenge for me to take down lectures in Russian. In a month, we will all have a state exam – me, as well as the Russian students.
Also, quite soon we will have a sort of a graduation gala, which people from the Bolshoi, Mariinsky and Mikhailovsky Theatres will be watching. It is very much like an audition, and theatres choose which graduates to hire. Unfortunately, it is very unlikely for a foreigner to get into the Bolshoi company. Luckily, there is no such problem with the Mikhailovsky Theatre. They are known for taking foreigners.
I can still remember my first visit to Moscow. It was raining, I had a night flight and it was all very depressing. But I have grown to love Moscow, and I always miss it when I am abroad. I prefer Moscow to St. Petersburg. It is a crazy, chaotic city, but I like that. Also, the Moscow Bolshoi Theatre is the best.
People usually think that, since we have spent so many years doing ballet, nothing hurts anymore. In reality, muscles hurt every day, and every day I get a new "injury." Even so, we cannot stop and take time to heal. Better not go to doctors either: They only spread panic.
Yet sometimes serious injuries happen. A student in Moscow broke his leg while dancing on the stage, but he managed to stick through to the end of the performance. If you watch the video, you can see his leg snap.
Many contemporary Russian ballet dancers are well known abroad, although I know that some dancers are not popular in Russia thanks to their ballet achievement. For instance, I know of Anastasia Volochkova here, but she is unknown in Europe. Conversely, Nikolai Tsiskaridze is a truly great name.
I happened to see him recently; he sometimes watches our classes. Other stars drop by from time to time, too. I always feel on edge when I have to rehearse in front of them.
The article is first published in Russian in Moskovskiye Novosti.
All rights reserved by Rossiyskaya Gazeta.