State Duma to introduce first domestic violence bill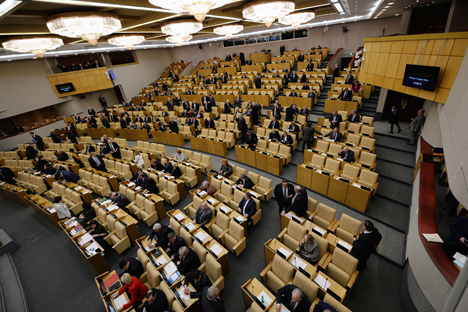 Acts of domestic violence have previously never been acknowledged as separate crimes, meaning that offenders are instead prosecuted under a host of alternative articles of the Criminal Code. Source: Alexey Filippov / RIA Novosti
The proposed bill will explicitly define the rights of domestic abuse victims and introduce multiple new sanctions on offenders.
With mounting pressure to legally define domestic violence, the State Duma on Tuesday assessed a new bill which, if passed, would see radical changes made to the way domestic abuse is dealt with in court.
In a country where, according to data released on Tuesday by the Statistics Service, 40 percent of women suffer verbal abuse and one in five is violently abused by her husband, a bill aimed at preventing domestic violence is long overdue, according to centres that help victims. The bill was announced on Tuesday by State Duma Healthcare Committee member Saliya Murzabayeva
"We've been working on this for 20 years. We've wanted this for a long time," Marina Pisklakova-Parker, who directs ANNA, a national center for the prevention of domestic violence, told The Moscow News.
Pisklakova-Parker worked on the draft bill with Murzabayeva, one of the legislators behind it.
Much to the chagrin of women's rights campaigners nationwide, acts of domestic violence have previously never been acknowledged as separate crimes, meaning that offenders are instead prosecuted under a host of alternative articles of the Criminal Code. As a result, offenders often receive sentences far lighter than would seem appropriate and in some cases are never properly tried due to their acts being deemed outside of local jurisdiction.
The proposed bill will explicitly define the rights of domestic abuse victims and introduce multiple new sanctions on offenders.
Murzabayeva said the bill stipulates judicial and non-judicial measures to protect domestic violence victims from repeat violence and prevent the culprits from searching out their victims and from harassing, visiting or phoning them, RAPSI reported on Tuesday.
Under the draft law, if found guilty of an act of domestic violence, an offender can be made to cover the upkeep of common children, pay the medical costs and rent of their victim as well as agree to treatment for any substance abuse issues they may have.
"There isn't just a lack of understanding, but also a lack of mechanisms [to deal with the problem]," Pisklakova-Parker said. One of the aims of the bill is to make prosecution of such crimes public, in order to raise awareness.
While clearly a much needed development, the extent to which this draft will begin to erode a traditionally dismissive mentality towards domestic abuse remains unclear. With only 12 percent of victims reporting incidents to an often skeptical police force combined with a distinct lack of alternatives to their violent relationships, Russian women may continue to tolerate acts of violence from their partners in silence.
Still, attitudes seem to be changing. According to ANNA, there are currently 30 shelters for abused women, and with the draft law stipulating a budget for aiding victims, the number of services will grow.
"I am optimistic because so far the head of the legislative committee is very supportive and other parliament members are aware it's time to have this law," Pisklakova-Parker said. And while a lot of men may continue being violent, the law will send a powerful signal that domestic abuse is not acceptable.
"One of the causes of domestic violence is gender imbalance and the views that women don't have equal rights," she said.
She added that the Russian Orthodox Church has plans to open shelters nationwide.
"Hearing a priest say you can't beat your wife will be a strong message," she said.
First published in The Moscow News.
All rights reserved by Rossiyskaya Gazeta.