State Duma deputies have proposed that all women between the ages of 18 and 27 be allowed to serve in the Russian military. The necessary amendments to the military service law have already been sent to the Defense Ministry for review.
Today, military service in Russia applies to all male citizens between the ages of 18 and 27. Russia's State Duma deputies have proposed equalizing the rights of men and women, albeit with the stipulation that military service for women not be compulsory.
In the new law, the article that excludes female citizens from military assemblies would be removed.
Izvestia has learned that the author of these amendments, Tatyana Moskalkova, deputy chairman of the State Duma CIS Committee and a member of the Lawmakers' Income Declaration Control Commission, was inspired by a desire to equalize the rights of men and women.
"We do not need to push women to join the army. We simply need to give those who are motivated and would like to serve the opportunity to do so. This is a matter of gender equality and a woman's right to serve in the armed forces," said Moskalkova.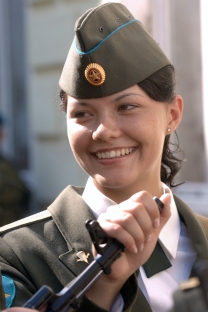 Some 3,000 out of 50,000 women are officers in the Russian army. Source: RIA novosti
At the same time, Adm. Vladimir Komoyedov, chairman of the State Duma Defense Committee and former commander of the Black Sea Fleet, noted that women could help resolve the Defense Ministry's staffing problems, which arose after the failure of the contract service system.
"We have a shortage of men in this country," said Komoyedov. "Meanwhile, women will go into a house that's on fire; they will stop a horse that is racing away at full speed. Therefore women must be made eligible to serve in the army. This will help us bring the army up to strength, since, once again, we have failed to come up with contract soldiers; they should be replaced by women."
The admiral noted that, when he served with the Black Sea Fleet, he was pleasantly surprised by the presence of women on the American ships that docked at Russian ports for friendly visits.
"I remember that, then, I wondered where they lived on the ship and if male members of the crew didn't make advances. They explained that any advances were dealt with very severely. I think that we will have the same practice," Komoyedov said.
According to the admiral, in modern-day forces, women should able to find plenty of work.
"Women can be trusted with a lot: They can be radio operators, parachute jumpers, translators, even snipers. Of course, you shouldn't put a woman in a tank or a jet fighter, but there are a plenty of jobs that are too easy for a man but would be just right for a woman," he said.
Komoyedov stated that, after Moskalkova's amendments have been approved by the Defense Ministry, they will be considered at a session of the Defense Committee this fall.
Franz Klintsevich, deputy chairman of the State Duma Defense Committee, thinks that introducing military service for women will also encourage men to serve in the army.
"I have come out in favor of this initiative as a way to rebuke those men who evade the draft. That is not a manly thing to do," said Klintsevich.
Currently, the State Duma is awaiting an answer from the General Staff. Tatyana Moskalkova sent the drafted amendments to the chief of the Main Organization and Mobilization Directorate (GOMU), with a request that he evaluate her idea.
"I met personally with GOMU Chief Vasily Smirnov and he did not express any objections. The draft law has been sent to the Defense Ministry for their opinion and in order to determine whether they can offer the necessary conditions and support, so that it isn't just a declaration. They are expected to respond by June 5," Moskalkova told Izvestia.
In a publication put out by GOMU, it was stated that the proposal is currently being mulled over by the legislators, but that, overall, they supported it.
"We already have women serving in the armed forces under contract. Therefore, we see nothing wrong with this idea," a GOMU representative told Izvestia. "That the law be correctly formulated is another matter, so as not to elicit a negative reaction in society."
At the same time, the GOMU publication explained that separate living quarters would have to be created for women — toilets, showers, barracks. Thus, the eligibility of women for military service will require careful economic calculations.
Igor Konashenkov, head of the Defense Ministry press service, reminded Izvestia that, at present, some 50,000 women are serving in the Russian army. Of these, some 3,000 are officers, while the remaining women are privates and sergeants serving under contract.
First published in Russian in Izvestia newspaper.
All rights reserved by Rossiyskaya Gazeta.